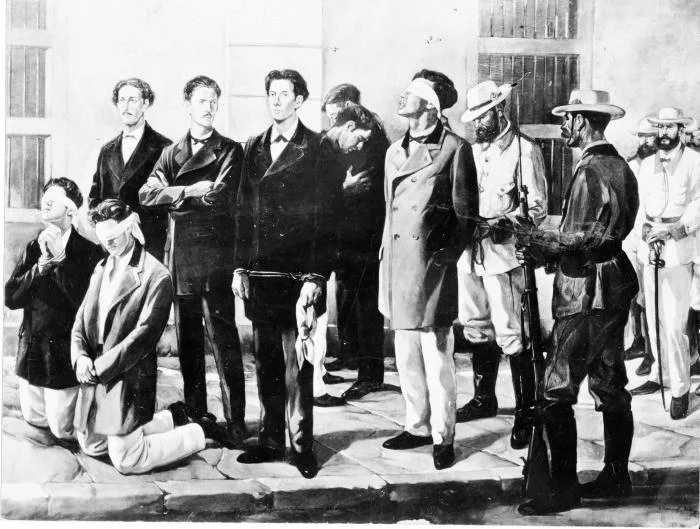 Havana, Nov 27 - The historical memory of Cuba still preserves the reminiscence of one of the most horrendous crimes committed by the Spanish colonial regime, the execution 150 years ago today of eight innocent medical students.
The events took place in the midst of tensions due to the growing defeats of the Iberian army at the hands of the leaders of the war of independence, and the climate of terror that Spain created in response to the nation's fields and cities.
On November 23, 1871, a group of young people from the first year of Medicine, driven by the passion and innocence of their age, toured the Espada Cemetery in the capital, while waiting for the arrival of one of their teachers.
Some turned on the wheelbarrow that moved the corpses, others played with each other, and one plucked a flower from the gardens of the necropolis, according to historical investigations.
But no one could even notice what would ensue later: the accusation of having desecrated the grave of a Spanish journalist who defended colonialism, the hours of prison and uncertainty, death.
Among the injustices surrounding the case are the imprisonment of 45 students who were taken to two councils of war.
In a first trial, which found no reasons to incriminate them, some were acquitted and others received minor sentences, but the rejection of the Spanish Volunteer Corps led to a second oral hearing with a new court, which decided to charge five of them as lesson.
Three more students were chosen at random to complete the figure of eight, including one who was not even in the capital on the day of the events, all immediately sentenced to death by firing squad.
There were several samples of rejection against the atrocious event, among them, the resignation of their positions of the Spanish captains Nicolás Estévanez and Federico Capdevila, the latter public defender of the young people.
Even the journalist and writer José Martí, who at that time was in Madrid as a deported person, also received details of the incident from his childhood friend, Fermín Valdés, one of the students sentenced to prison.
Since then, throughout his career, various writings by the Apostle of Cuba made reference to the crime; among them, the poem To my dead brothers on November 27, 1871, where he sentenced: "When he dies // In the arms of the grateful homeland // Death ends, prison is broken; // It begins, at last, with dying life ".
150 years after the crime, and as is tradition every year, young people today will evoke the event with activities throughout the island of Cuba.
At the University of Havana the act of remembrance will take place, which will conclude with a march to the monument erected on the island to the eight medical students. (PL)
---
---
Comments
---
Your email will not be published *