Local cattlemen overcome delays in delivery of milk to the industry 
---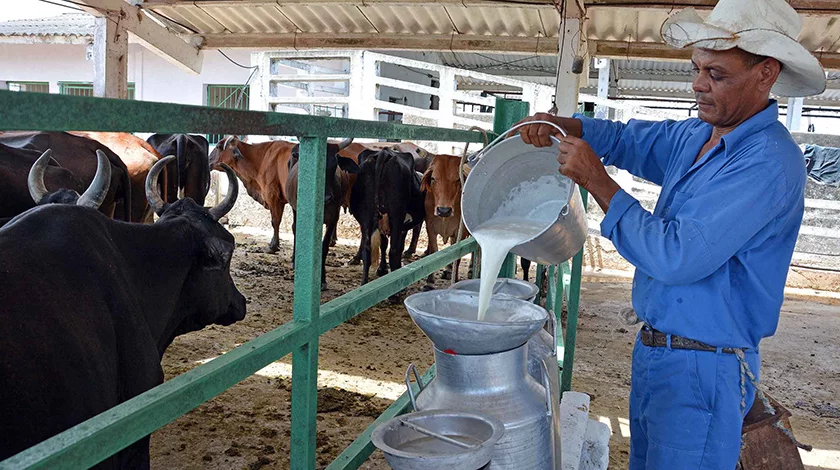 Camagüey, Dec 4 - Cattle ranchers in the province of Camagüey are working to recover delays in milk production this year, based on a better stability in daily food deliveries that favored meeting this line at the end of November.
In recent months, the sector has registered daily estimates of more than 184 thousand liters, higher than what is normally achieved at this stage of the preceding calendar and before the new measures approved in the country to stimulate agricultural production.
José Antonio Gil Pérez, livestock deputy delegate in the territory, explained that such results favor the recovery of part of the decrease of more than two million that the region presents at the end of November.
Camagüey ranchers accumulate 65 million 200 thousand liters collected so far for the industry.
The only municipality in the province that complies in the year is Vertientes, which grows by more than one million liters compared to 2020.
The manager also said that 12 companies in the territory do not reach the estimates provided in a general way.
For its part, the production of beef exhibits a good performance at the end of November and the province adds more than 14,900 tons sent to the industry, which represents a growth of more than a thousand tons compared to the same period of 2020.
The measures implemented since last May in Cuba to revitalize the agricultural sector have a positive impact on the milk and meat lines, said Gil Pérez, and highlighted those related to the authorization of the slaughter of cattle and the commercialization of meat.
He pointed out that from those decisions, 954 Camagüey producers have slaughtered 2,551 head of cattle, after fulfilling the state commission and other requirements that are taken into account to guarantee the growth of the mass, especially the cows.
Given the insufficient results of local livestock, the Provincial Delegation of Agriculture and its dependencies in the municipalities of Camagüey propose several actions, among which are to promote the recovery of areas for pasture in order to ensure greater amounts of food and water to the animals.
They attach importance to the purpose of a birth rate of not less than 70 percent, since currently it is barely 55 percent, and something that affects the low milk yields.
Since last November in Camagüey, the measure that establishes the value of a liter of fresh cow's milk at 20 pesos has been applied, and in turn, over-compliance in the delivery of food is stimulated by paying in Freely Convertible Currency (MLC).
More than four thousand cattle ranchers in the province have so far benefited from the new regulated prices, which seek to encourage agricultural production in Cuba. (ACN) (Photo: Rodolfo Blanco Cué / ACN / File)
---
---
Comments
---
Your email will not be published *