Thursday, March 5, 2020
Book about Che's murder presented in Camagüey
---
---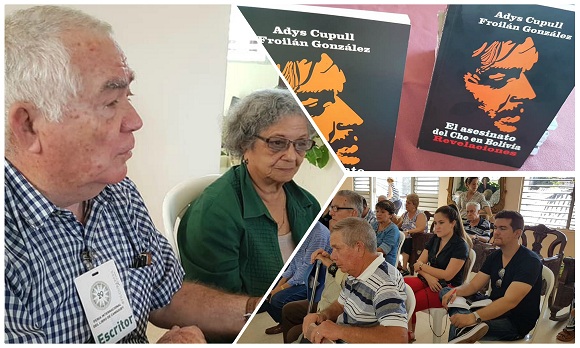 Camaguey, March 5.- The text The murder of Che in Bolivia. Revelations, by writers Froilán González and Adys Cupull was presented today at the Press House in this city, as part of the twenty-ninth International Book Fair in its local edition.
The event was preceded by the intervention of the journalist and professor, Eduardo Labrada Rodríguez, who evoked the presence of Che in Camagüey in the initial period of the Cuban Revolution and his actions in the sugar harvests of that time.
This served as a preamble to the intervention of Adys Cupull and Froilán González, who presented details of the work done to know details of how the last hours of the Heroic Guerrilla and his companions were. Who killed Che? What was the tragic end of several of the involved in the crime?, among other details.
They also delved into the support provided by the Bolivian peasantry to the Guerrilla del Che, and related anecdotes of the investigative process to form the book.
Published by Political Editorial, ´´The murder of Che in Bolivia.Revelations´´ is the result of the research work of more than thirty years of both intellectuals, who are also authors of Ñacaguazú a la Higuera and La CIA against Che, texts that contribute to learn more about Latin American history. (Eric Pacheco Fandiño / Radio Cadena Agramonte) (Photos: by the author and Miozotis Fabelo Pinares / Radio Rebelde correspondent)