Thursday, February 18, 2021
Musical tribute to Almeida from Santiago 
---
---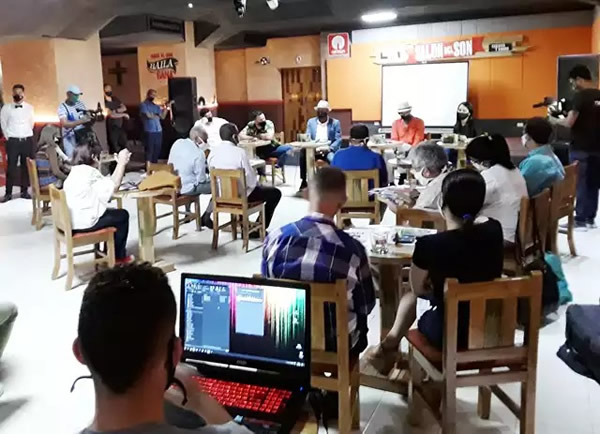 Santiago de Cuba, Feb. 18.- Several musicians from Santiago sang the day before to the Commander of the Revolution Juan Almeida Bosque on the occasion of his 94th birthday, on the album "Desde el alma", recorded at Estudios Siboney in Santiago de Cuba.
Artists from the groups of the Son de Cuba Agency and other soloists from the city participated in what constituted a just reverence for the revolutionary with a prolific career as a composer.
Inocencio Heredia (Chencho), singer of Septeto Santiaguero, showed his pleasure for being included in the phonogram, as it gave him the possibility of penetrating the most intimate and familiar repertoire of Almeida Bosque.
Not used to singing ballads and boleros, he exclusively referred to ACN about his enjoyment during the recording process of "A Diana", a piece that the musician-Comandante dedicated to his daughter of the same name, and considers good and, above all, emotional, the result.
According to Chencho, who has defended Almeida's melodies at other times, in each song he discovers edges and sensibilities, unthinkable for a Cuban who from a very young age enlisted in the vicissitudes of war.
"A Rosario" stands as one of the most beautiful works included in the plate, in it the author summarizes the pain for the loss of his mother, and that same feeling of sadness and emptiness reflects Tony Rondón in his interpretation.
This experience led to a challenge for the former member of Santiaguero because he did not know the song and had only two days to memorize it and record it in the same institution that 40 years earlier Almeida founded on San Félix street on the corner of San Germán.
At 26 years old, Damián Busqueta worked as a production assistant and pianist on the album.
The artists involved in this recording project overcame not a few barriers and fatigue from long hours of work, but they never gave up singing from the soul whom all of Cuba recognizes as "The Commander Musician": Juan Almeida Bosque. (ACN) (Photo: Sierra Maestra newspaper)