Tuesday, February 23, 2021
Cynological Federation of Cuba announces calendar of events
---
---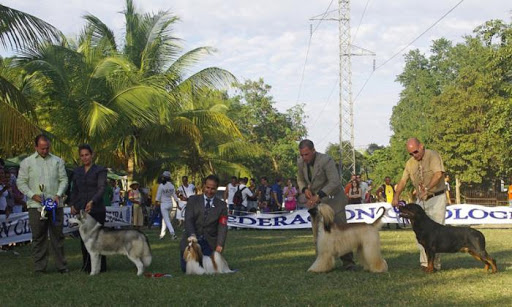 Havana, Feb 23.- The Cynological Federation of Cuba (FCC) announced in this capital its calendar of events for the year, although it clarified that its realization is subject to the control of the outbreak of the Covid-19 pandemic.
One of them is the International Spring Expo, from April 22 to 25, exclusively reported to the Cuban News Agency Ramcel Flores Chávez, Head of the Dissemination and Publication Front of the non-governmental organization.
The other will be that of the Latin American Canophilia Exchange Society (SICALAM), from June 24 to 27, and which awards points for the election of the Latin American Champion purebred dog.
According to its programming, the National is expected from September 25 to 26, the Autumn International Expo, from November 18 to 21, and finally the Champions Championship on December 18.
Flores Chávez regretted that in 2020, due to the impact of the new coronavirus, they could only organize, from February 23 to 26, the Pan American Beauty Championship, at the EXPOCUBA fairgrounds.
We had the presence of three foreign judges and one Cuban, and their participants registered more than 200 copies, including from other countries, he recalled.
Shortly after, he added, we promoted the International Expocanina, from April 23 to 28, but it had to be suspended due to COVID-19, as well as the Pan-American Championship, from February 18 to 21.
He explained that the FCC is in charge of promoting, encouraging and facilitating the breeding of purebred dogs in the country, given its cultural and social utility, in conjunction with its specialized clubs and associations, as well as the Non-Organized Breeds Front in Cuba. (FARNOC).
The Cynological Federation of Cuba emerged on December 27, 1987, it is a member of the International Cynological Federation and in a recent meeting to fill positions, the new President of its Board of Directors is Norma Rodríguez Argüelles.
The latter also directs the Cuban Federation of Canine Sports, the National Institute of Physical Education and Recreation, and the Collies Club.
FCC welcomes the national associations of Cocker Spaniel Breeders and that of Afghan Hounds, under the responsibility of Ramcel Flores Chávez himself.
Also, to the Boxer, Havanese, Collies, Great Dane, German Shepherd, Dalmatian, Doberman, Chihuahua and Dachshund clubs. (Text and photo: ACN)