Friday, February 26, 2021
Local workplaces remain open despite Covid-19
---
---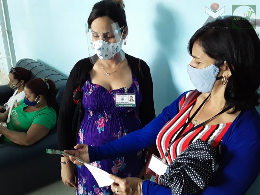 Camagüey, Feb 26.- Despite limited local transmission of Covid-19 in the municipality of Camagüey, workplaces remain open putting into practice various modalities of work.
The boards of directors of each entity define the people who can remain in their usual position and evaluate the cases of those who can perform remote work, explained Jeannette Casanova Cosío, Deputy Director of Employment of the Provincial Directorate of Labor and Social Security (DPTSS).
The official said that in the case of this last modality, it was applied since last year and remains an option in these complex moments that the country is going through.
In the event that the employee cannot take advantage of remote work or be relocated to other tasks, he will be dismissed for home, receiving 100 percent of his basic salary after the first month and 60 percent after the second month, Casanova Cosío commented.
Regarding the latter, he specified that if the figure is less than the thousand 528 pesos that the country defined for the acquisition of the basket of goods and services, the administration of the employer center must reformulate the calculation to guarantee that amount.
In the same way, she assured that the worker who cannot attend his work center authorized by a health authority that indicates preventive isolation for suspected contagion with Covid-19, will receive one hundred percent of his salary.
Currently, taking into account the transmission phase of the epidemic, the Municipal Labor Office of Camagüey is not providing service due to the restrictive measures in the city, and next week no job will be offered.
Until the middle of this month, a total of 4,668 people accepted new work locations mainly aimed at strengthening the productive sectors to ensure the creation of goods for the basket of goods and services as a priority for the country.
Of these, 2,567 people accepted employment in state entities, of which 1,413 occupy positions in the business sector and 1,154 in budgeted units. (ACN) (Photo: File)