Thursday, March 4, 2021
Cuba and its one dilemma: Homeland or Death!
---
---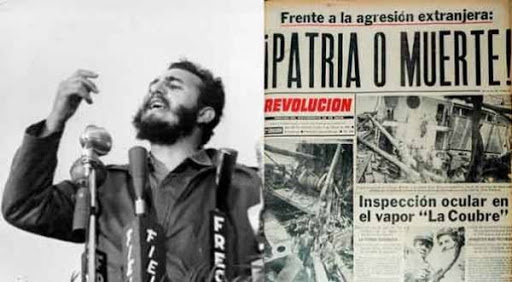 Havana, Mar 4.- 61 years after the sabotage of La Coubre steamship, Cuban authorities today ratify the slogan of Homeland or Death! shout by Fidel Castro after that terrorist attack.
The President, Miguel Díaz-CanelBermúdez, evoked on the social network Twitter the pain of the Cuban people for the sabotage that occurred in the port of Havana, which caused the death of almost 100 people and the mutilation of another 400.
"March 4, 1960. An explosion, dead bodies, blood, sirens. Rescue, rage. Another explosion, more bodies, more blood, more rage. Almost 100 dead, 400 mutilated. #LaCoubreattack, #Cuba is injured and tomorrow it will shout #PatriaOMuerte #Venceremos ", wrote Díaz-Canel.
For his part, the Minister of Foreign Affairs, Bruno Rodríguez Parrilla, wrote in Twitter that this sabotage is part of the long list of State terrorism against Cuba.
He stated that the defense of sovereignty and the legacy of the martyrs keep the Cuban people facing a single dilemma: Homeland or Death!
Also the Deputy Prime Minister Inés María Chapman Waugh recalled the words of the Commander in Chief and highlighted the importance of not forgetting history.
On March 4, 1960, at a dock in the port of Havana, there were two explosions: the first destroyed part of the warehouses of the French Steam La Coubre, from which ammunition was unloaded, and shortly, the second bomb made the destroyed the stern, causing more deaths among those who had come to help the first victims.
The next day, at the tribute for thevictims of the sabotage, Fidel Castro said: "Now freedom means something more. Freedom means Homeland, and our choice will be Homeland or Death!".
According to official figures, the fatalities in Cuba due to attacks by the United States exceed 3,400. (ACN) (Photo: File)