Thursday, March 4, 2021
La Coubre: a bloody reminder of state terrorism
---
---
By Edel Blanco Duarte / Radio Cadena Agramonte.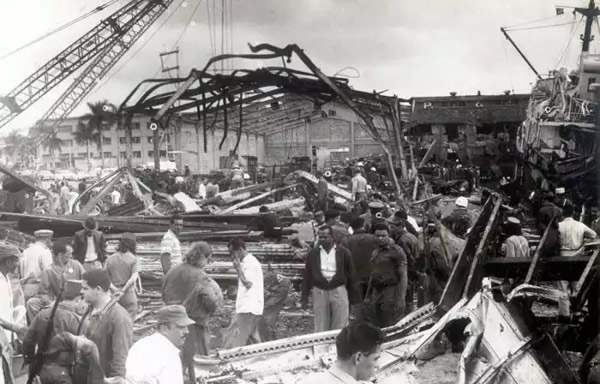 Those who still insist on accusing the Cuban State of sponsoring terrorism forget that, exactly 61 years ago, the explosion of the French ship La Coubre took place.
The brutal sabotage, on March 4, 1960, left a large number of deaths and injuries and not only shook Havana but also touched the hearts of everyone on the island.
From the Central Intelligence Agency (CIA), the abominable act was forged with the aim of preventing the nascent Revolution from becoming stronger with the arrival of war supplies from Belgium.
After the first explosion, rescue work began and half an hour later, a second detonation claimed the lives of those who were helping the victims.
The sabotage happened as planned, yet it never achieved its purpose.
The enemy did not foresee that the indignation of an entire people would reach special relevance for the country's history.
This attempt to terrorize the population so that it would desist from the hopeful path that had just been undertaken, had a transcendental response in the phrase ¡Patria o Muerte!, pronounced by Fidel in a massive act, in homage to the deceased and in defense of the Revolution.
After the attack on La Coubre, the chronology of terrorist acts incited and financed by the different administrations of the United States against the Cuban people increased and there have been many events that have left more than 3,400 deaths and an evident violation of the essence of human rights.
Despite this, Cuba is recognized in the world for providing cooperation to other countries. The Henry Reeve International Contingent has treated more than 3.5 million people worldwide.
A total of ten million 611,282 people from thirty countries have become literate through the Cuban method Yo Si Puedo, and at the moment Cuban professionals offer advice to the ministries of Education of 13 nations of the world.
These figures illustrate Cuba's contribution to the development of the world, while the world's leading power is currently a symbol of violence and chaos and attacks, not only our Island but also incites war and disunity.
So who are the real sponsors of terrorism? (Photo: ACN)