Thursday, March 4, 2021
Díaz-Canel highlights beginning of third phase of trials with COVID-19 vaccine
---
---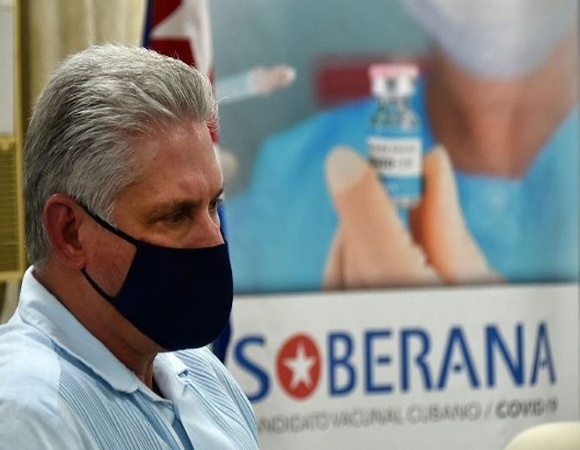 Havana, Mar 4 - Miguel Díaz-CanelBermúdez, President of the Republic of Cuba, today highlighted the beginning of the third phase of clinical trials of Soberana 02, one of the five vaccine candidates against COVID-19 developed in the country.
In a message on his Twitter account, the president thanked its creators and highlighted the rigorous analysis to which the drug was subjected, by the Cuban Regulatory Authority, the Center for State Control of Medicines, Equipment and Medical Devices (CECMED).
"NuestraSoberana, the first Latin American vaccine on phase III! CECMED has just approved it, after rigorous analysis of the evidence. Thanks to its creators who, in turn, thank all those who have collaborated. #We areCuba #CubaViva," Díaz-Canel tweeted.
A note from the BioCubaFarma business group, released the day before on social networks, indicates that, as a result of the CECMED evaluation, it is proven that Soberana 02 is a vaccine candidate with adequate safety standards.
Phase III of the clinical trial, which aims to demonstrate the efficiency of the vaccine candidate in the prevention of COVID-19, will involve 44,010 people between 19 and 80 years of age, from eight municipalities of the capital (Plaza, Playa, Centro Habana, Diez de Octubre, Cerro, Old Havana, La Lisa and Marianao).
According to the note, strict compliance with health measures by the population is a requirement for the success of this trial. (ACN) (Photo: File)