Friday, March 5, 2021
Cuba confirms 777 new positive cases of COVID-19, 44 of them from Camagüey
---
---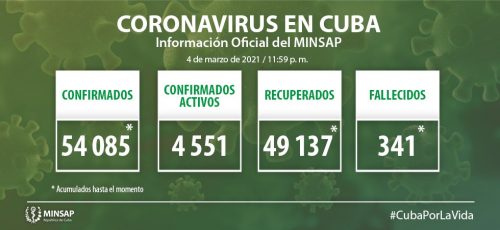 Havana, Mar 5 - According to the report of the Cuban Ministry of Public Health (MINSAP) on Covid-19 in the country, issued at the end of March 4, 44 new cases were confirmed in the province of Camagüey, distributed as follows by municipalities:
Camagüey: 41 (40 contacts of confirmed cases and 1 imported).
Florida: 1 (confirmed case contact).
Guáimaro: 2 (contacts of confirmed cases).
Next, the full part of the Ministry of Public Health:
At the close of this Thursday, March 4; 21,552 patients, suspects 3,816; 13,185 under surveillance and confirmed active 4,551 are admitted for epidemiological clinical surveillance.
For COVID-19 they studied 18,036 samples, resulting in 777 positive samples. The country accumulates 2,482,557 samples made and 54,085 positives.
Of the total cases (777): 742 were contacts of confirmed cases; 7 with a source of infection abroad; on day 28 without a specified source of infection. Of the 777 diagnosed cases, 392 were female and 385 males.
46.2% (359) of the 777 positive cases were asymptomatic, accumulating a total of 28,920, which represents 53.4% ​​of those confirmed to date.
The 777 diagnosed cases belong to the age groups under 20 years: 112; from 20 to 39 years: 250; from 40 to 59 years: 292 and more than 60: 123 cases.
(Ministry of Public Health)