Saturday, March 6, 2021
Provincial Defense Council evaluates areas under reinforced surveillance in Camagüey
---
---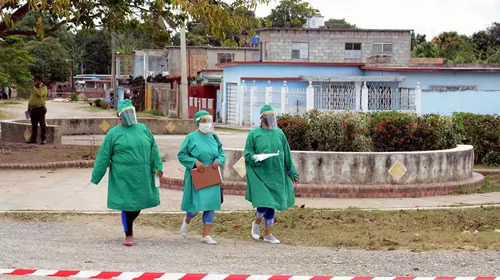 Camagüey, Mar 6.- As of this Saturday, March 6, two new areas will be included in the city of Camagüey under the reinforced surveillance protocol, as was known at the usual meeting of the Provincial Defense Council to assess Covid-19status in the territory.
Blocks 6116 and 6118, in the Saratoga district, belonging to district 77, will be subjected to the measure due to the 12 positive cases that have accumulated so far, so that the 126 homes in the area will assume the restriction of the mobility of their inhabitants from6:00pm.
At the same time, a similar provision will be implemented in defense zone number 19, located on Verges street, between Ignacio Agramonte and San Esteban, since that block accumulates seven positive cases and 18 contacts so far.
In addition, the closure of the reinforced surveillance in areas of the Eden - Juruquey popular council and in the defense zone number 11 of the Los Coquitos district was reported, after complying with the established time without reporting new cases, which will also be effective this Saturday starting at nine in the morning.
Similarly, the incorporation of another five blocks to the 16 that are already restricted in mobility in La Belén is being studied, as a complex epidemiological situation is confirmed there, which requires the strictest application of the targeted measures.
The areas that are under special surveillance in the center of the city, in addition to Avenida de la Libertad, generate positive opinions due to the good care provided to their residents, but greater organization is required in the neighboring sites.
In general, the incidence rate of the pandemic is 92.5 per 100,000 inhabitants, and the most affected municipality is Camagüey, with 506 active cases. They are followed by Florida, with 58; Sheds with 41; Carlos Manuel de Céspedes, with 29, and Esmeralda with 24 Covid-19 positive patients.
522 people remain admitted, the majority from Camagüey, and unfortunately three are reported in critical condition.
At the end of the meeting, the video clip of the musical theme "Convicción" was shown, composed by the teacher ReinaldoEchemendía, in which the most representative roots of Cuban sonority are exposed in defense of the principle of Homeland or Death! Pronounced by Fidel the 5 of March of 1960 during the funeral furnaces to the victims of the explosion of the steam La Coubre. (ElianisCutiñoLópez / Radio Cadena Agramonte) (Photo: ACN)