Tuesday, March 16, 2021
Cuba stands out for high immunization against polio
---
---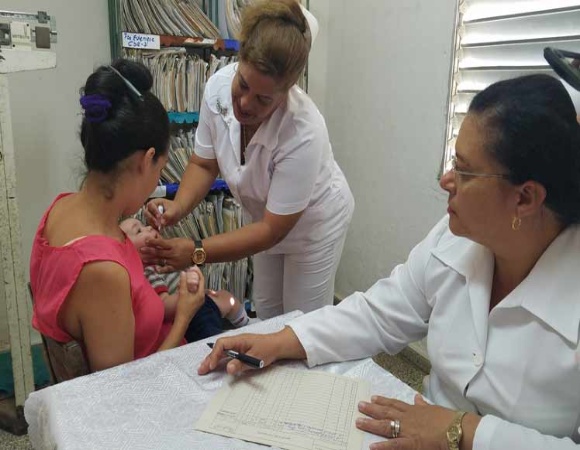 Havana, Mar 16.- More than 400 thousand children from all over Cuba are today immunized against poliomyelitis after the recently concluded vaccination campaign to prevent this disease that causes acute flaccid paralysis in minors.
On this occasion, vaccination coverage of more than 95 percent was achieved for the age groups corresponding to children under three years old and those under nine years old, Dr. Lena López, head of the National Immunization Program of the Ministry of Health,explained to the Granma newspaper.
Campaign 60 for bivalent oral polio vaccination ran this year from February 22 to 27, and had a recovery week from March 1 to 6.
The entire population of this country under 60 years of age is immunized against this disease that causes acute flaccid paralysis with notable motor disability in children, said the specialist.
According to scientific literature, poliomyelitis or polio is an infectious-contagious disease that affects the central nervous system, it can cause inflammation of the brain and motor neurons of the spinal cord producing muscle atrophy, paralysis, deformity and even death. and children are the main affected.
In 1962, the first massive polio vaccination campaign was carried out in Cuba and this year the process took place in the midst of acomplex epidemiological situation at the national level due to the Covid-19 pandemic.
Dr. Lena López explained that on this occasion measures were adopted such as the use of means of protection by health personnel and compliance with the rules established to prevent contagion with the SARS-CoV-2 virus, which causes Covid-19 .
In addition, vaccination points were expanded to family medical offices to bring service closer to the community and avoid crowds.
Since 1962, Cuba has not registered deaths caused by the poliovirus and the incidence of reported cases was very low.
In 1994, the World Health Organization and the Pan American Health Organization certified the elimination of the disease in this country.
With the implementation of the Childhood Vaccination Scheme, it was also possible to eradicate other diseases such as diphtheria, measles,pertussis, rubella and mumps, as well as two severe clinical forms in children under one year: neonatal tetanus and tuberculous meningitis.
Vaccination also reduced morbidity and mortality by more than 95 percent due to typhoid fever,meningococcal disease and hepatitis B. (Text and photo: PL)