Saturday, March 20, 2021
Bike ride organized in Belgium against the US blockade of Cuba
---
---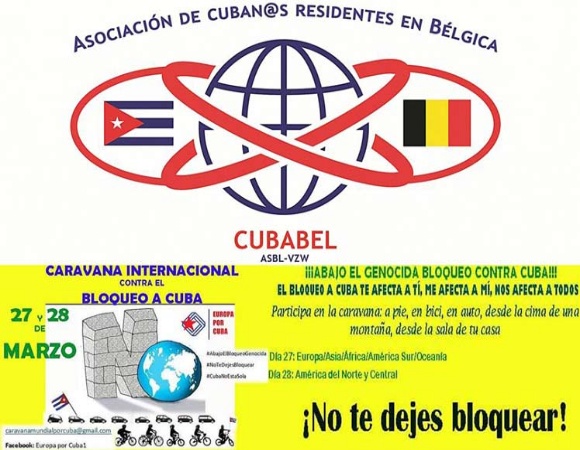 Brussels, Mar 20.- The Association of Cuban Residents in Belgium (CubaBel) announced today that it is organizing a bicycle ride in this capital as part of the global caravan against the US blockade of the island, scheduled for March 27 and 28.
Speaking to Prensa Latina, Carlos Calvo specified that the intention is to make a tour by bicycle and with flags on Sunday, March 28, through emblematic points of Brussels, such as the famous Manneken Pis statue, always considering the approval of the local authorities and the complex situation derived from COVID-19.
According to the member of CubaBel , people who cannot participate will be asked to upload photos with sweaters and banners that day to social networks in rejection of the economic, commercial and financial siege imposed by the United States on the island for 60 years, a policy intensified by the Donald Trump administration ( 2017-2021 ).
Calvo pointed out that the organization is working on other initiatives to support the island, including a campaign to donate resources for the public health system.
At the end of February, the solidarity channel Europe for Cuba called to develop during the last weekend of March days against the blockade of the largest of the Antilles, to raise a single universal voice that demands its immediate and unconditional lifting.
Caravans of cars, motorcycles and bicycles, concentrations, climbing mountains, marches and sending messages through the Internet, are some of the actions considered, in a context marked by restrictions to stop the spread of COVID-19.
Europe for Cuba also called for flooding social networks and other media with photos of the activities and calls on Washington to end the blockade.
The world caravan foresees activities on March 27 in Asia, Oceania, Africa, South America and Europe, while the 28 will correspond to North and Central America. (Text and photo: PL)