Monday, April 5, 2021
Cuban struggle with the pandemic also told through art
---
---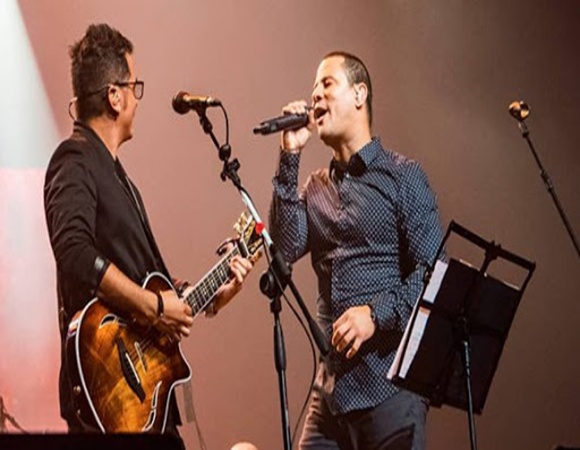 Santiago de Cuba, Apr 5.- The Cuba struggle with COVID-19 is also told through art, the songs Valientes and The strength of a country confirm it and are erected, both equally, in an embrace to the life.
From the authorship of Israel Rojas, voicalist of the Buena Fe duo, both titles praise the work of health professionals, who are fighting the pandemic inside and outside the island, and of scientists, immersed in the achievement of national vaccines against the COVID-19 virus.
The composer never thought that the first song would achieve such notoriety, but today the public associates it with the brigades of the Henry Reeve Contingent, whose commendable performance contributes - still - to the favorable management of COVID-19 in several nations, many of them developed.
Conceived in 2018 for the documentary "Thanks for fear" by the director Rigoberto Senarega and premiered in November of the following year in the presentation of the album Carnal, Valientes became an anthem to distinguish the men and women who in the red zone of hospitals and centers of isolation stand up to death.
Rojas expressed his joy and pride in knowing that this melody identifies the altruism, solidarity and humanism of Cubans wherever they are, in their fight against COVID-19.
The groups Buena Fe, Ronald González and Explotación Rumbera, Changüí Guantánamo and the Banda de Boyeros came together to give voice and music to La Fuerza de un País, launched on March 24.
Exclusively for the ACN, its author, Israel Rojas classified it as a real challenge, in particular, because the lyrics had to be placed, artistically, at the height of the feat of Caribbean scientists, who spare no effort to achieve immunization against COVID-19.
Although commissioned by the BioCubaFarma communication team, none of the participating musicians got any profits from this, the duty and intention to honor science was enough for them.
He alluded to the emotions of the scientific community on the occasion that the piece was presented, in contrast to the rejection of those who, desperate by the reliable progress of the country, justify their hostility to the Cuban government and seek to lacerate the confidence of the people.
With The Force of a Country, Israel recognizes the merit of those people committed to the health of their nationals and a good part of humanity who harbor in Cuban vaccines the hope to protect their citizens.
Due to its content, the singer-songwriter would like to be remembered with this work when, from another dimension, he inspires songs and gives hugs of life. (Text and photo: ACN)