Monday, April 5, 2021
Cuban diver ranks sixth in Kazan competition
---
---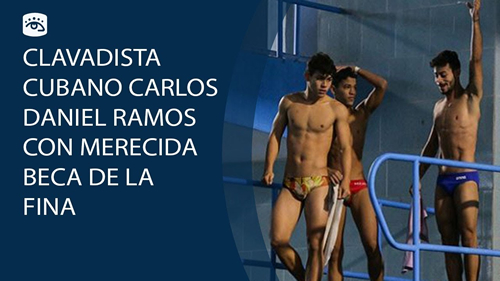 Havana, Apr 5.- Cuban diver Carlos Daniel Ramos finished sixth on the platform this Sunday during a contest held in the Russian city of Kazan, where since last February he has benefited from a scholarship from the International Swimming Federation (Fina).
With accumulated 358.70 points, the athlete taught for the second time the program that he seeks to improve for future commitments. In conversation with JIT, he assured that he felt comfortable with the new selection, with a higher degree of difficulty.
"I'm a little better at the starts (the first part of the jumps) and I still have to do the same when entering the water," he said after a competition in which teammates from the international center and guests were measured.
"This week I did a lot of ten meter dives as a test for the competition. Possibly I will mount two new jumps very soon to make the program more difficult", he referred as a preview of the inclusion of the four and a half laps in front, and the three and a half laps in reverse (known as Dutch).
The scholarship has given him the opportunity to prepare in very good conditions and share experiences with young talents from various parts of the world, in addition to meeting in person legends of this sport such as the Russian Dmitri Sautin.
From Havana, the national commissioner Milagros González praised Ramos' stay in the Russian city, assuring that he is a talented young man who this opportunity will facilitate better results in the future.
"I saw the competition on video and it shows that their dives are in the zone, as we say. Details remain to be improved, especially at the entrance to the water. That is gained with a lot of training,"said González.
"The most important thing is your disposition and that you feel good emotionally. He receives a lot of support from his teammates here and that makes his stay more bearable,"added the former coach of the national team. (JIT)