Tuesday, April 6, 2021
Cuba has 10 gold medals in scientific intellectual property
---
---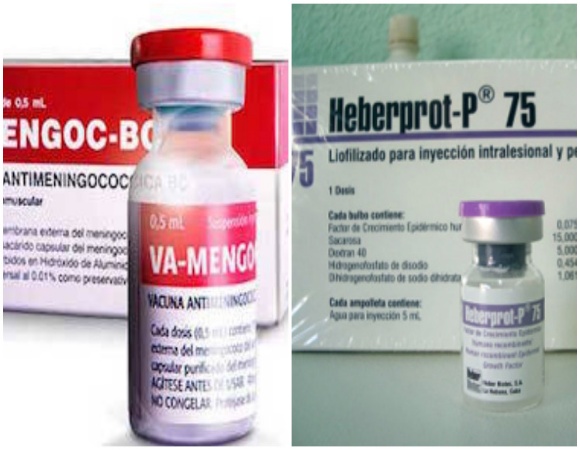 Havana, Apr 6.- Cuba today has 10 scientific projects that hold the gold medal of the World Intellectual Property Organization (WIPO), among which the meningococcal type B vaccine and the Heberprot -P drug stand out .
The recognition of this entity belonging to the United Nations, awarded in 1989 to the immunological against meningococcus B and C; (VA-MENGOC-BC), the first in the world to be effective against this bacterium, designed by Dr. Concepción Campa and researchers from the current Finlay Vaccine Institute of the Caribbean nation.
WIPO, created in 1967 to stimulate inventive and creative activity, mainly in non-industrialized nations, awarded the golden award in 1996, Policosanol (PPG), a drug made from sugar cane wax by specialists from the National Center of Scientific Research of Cuba (CNIC).
In 2000, the antibiotic for veterinary use Biocida, from the Centro de Bioactivos Químicos at the Marta Abreu de Las Villas Central University, would also receive the award.
Based in Switzerland and 193 member states, WIPO has awarded the award to the humanized monoclonal antibody Cimaher, from the Center for Molecular Immunology of Cuba (CIM).
In addition to the Stabilak product , from the National Center for Agricultural Health (Censa), to extend the shelf life of raw milk without refrigeration.
Achievements of Cuban biotechnology, also distinguished are the QUIMI-HIB vaccine, against Haemophilus Influenzae Type B, which causes meningitis and pneumonia in children during their first years of life.
This joint research project between the University of Havana and the University of Ottawa in Canada, is obtained with a synthetic antigen, and presents 99.7 percent long-term protection.
These milestones of Cuban science were joined in 2007 by the Diramic rapid microbiological diagnosis team , also from the CNIC, and the Lung Surfactant ( Surfacen ), created in the Censa, against Respiratory Difficulty Syndrome in newborns.
In the last decade, Heberprot P, a leader in Cuban biotechnology, received the gold medal, created for the treatment of diabetic foot ulcers that makes it possible to reduce the risk of limb amputation.
Designed by the Center for Genetic Engineering and Biotechnology (CIGB), it is a product based on an injectable pharmaceutical composition, which contains recombinantly produced human epidermal growth factor.
In 2015, the World Intellectual Property Organization awarded the gold medal to the anti-CD6 monoclonal antibody, Itolizumab, developed by the CIM, and initially consigned to the treatment and diagnosis of psoriasis.
Included in the care of patients with COVID-19, this drug showed positive results in anti-inflammatory therapy, in addition to antiviral and anticoagulant therapy, and could reduce the morbidity and mortality associated with severe clinical forms of the disease. (Text and photo: PL)