Wednesday, April 7, 2021
Neighbors from Plaza del Carmen talk about health on the occasion of World Health Day
---
---
By Dania Díaz Socarrás / Radio Cadena Agramonte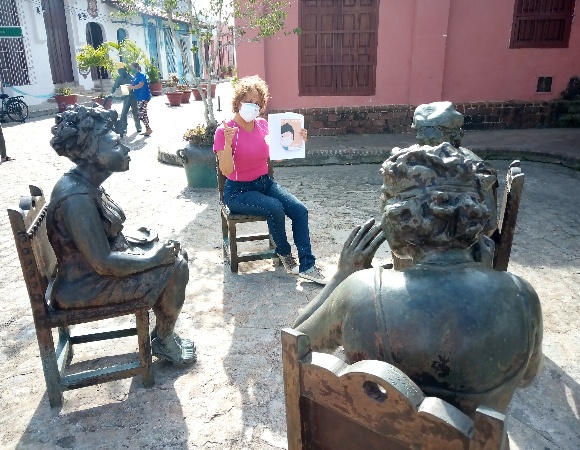 April 7 is World Health Day and, on the ocassion, specialists from the Provincial Department of Health Promotion and Disease Prevention spoke with the residents of the Plaza del Carmen in Camagüey.
For the inhabitants of the houses that surround the visited space, now with very few passersby, the usual recommendations came to comply with all the measures to contain the virus, and for the permanent guests to the symbolic square, born from the hands of Martha Jiménez, the advice that corresponds to each one.
From the position that the gossipers left free for those who wanted to listen to them, the message was: "If you are going to talk, put on your mask (take it off only to have coffee) and if you want reliable information, listen to the conference by Dr. Francisco Durán ".
Meanwhile, next to the water carrier another promoter recalls: "water has always been vital, but today it is essential not only to drink, but to wash your hands well."
The lovers, embraced, listen attentively that now wanting means caring and that there are new ways to show affection, while next to the old man who always reads the province's newspaper, an approving voice assures: "that's it, stay well informed with the Camagüey and Cuban press", so everyone will know how to take care of themselves and understand more about the pandemic or the vaccines that are made in the country.
World Health Day in 2021 is dedicated to the construction of a fairer and healthier planet and in the city of Camagüey, as can happen anywhere in this nation, we saw health promoters knock on the doors of neighbors without paying attention to their race, creed, ideology or condition, talk with everyone equally, take care of them and teach them to take care of themselves, because here every life matters.
Yaquelín Cubeña López, head of the Department of Health Promotion and Disease Prevention of the Provincial Center for Hygiene and Edipemiology, explained that since the beginning of the effects of COVID-19 in the country, educational talks are held mainly aimed at vulnerable populations, in the areas under surveillance, family dynamics and face-to-face meetings to find out the health status of the inhabitants of each community.
Cuba is an example of how health multiplies - he added - and was proud to be part of an island of solidarity, full of love and whose premise is to save, also from prevention, all lives. (Text and photos by the author)