Friday, April 9, 2021
Bruno Rodríguez rejects mention of alleged acoustic attacks in Cuba
---
---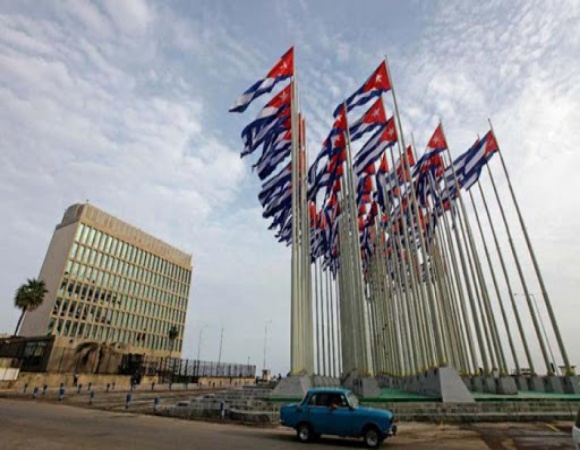 Havana, Apr 9.- It is surprising that a high-level official of the United States (USA) government makes mention of the legend about microwave attacks against US diplomats in Havana, the Cuban Foreign Minister denounced today on Twitter.
Rodríguez assured that it is a nonsense already disqualified by science, and questioned whether it was ignorance or manipulation.
The statements of the Cuban diplomat respond to the words of the main director of the National Security Council for the Western Hemisphere of the US government, Juan González, who in a recent interview with the US media CNN made mention of the alleged attacks by microwaves that allegedly affected diplomats of that nation on the island.
According to González, the position of the Biden administration towards Cuba is not that of Obama, and pointed out that so far the United States has not fulfilled the commitment of 20 thousand annual visas for Cubans, because first they had to ensure that the Personnel from that country at the embassy in Havana are safe and are not in danger of an alleged microwave attack.
In this regard, the US Deputy Director General of the Cuban Ministry of Foreign Affairs (MINREX), Johana Tablada, highlighted on Twitter that the US government knows very well that diplomats and any foreign visitor are safe in Cuba.
They know that there were no attacks but there was a repugnant and harmful manipulation for relations between both peoples, governments and families, the Cuban official denounced.
In another communication on that Social Network, Tablada highlighted that the US returns to the lightness, superficiality and irresponsibility of the Trump administration, when speaking of theories without evidence.
A recently declassified US State Department secret report noted that the dismantling of the US embassy in Havana in early 2018, in reaction to alleged sonic attacks on diplomatic personnel, was a political response riddled with mismanagement, lack of coordination and non-compliance with procedures.
The internal document also indicated that it was not known what happened or why, or who did it; however, it was used as a justification for reducing more than 60 percent of the diplomatic staff and closing the US consulate. (ACN) (Photo: File)