Friday, April 9, 2021
Cuba confirms 1,017 new Covid-19 confirmed cases, 15 from Camagüey
---
---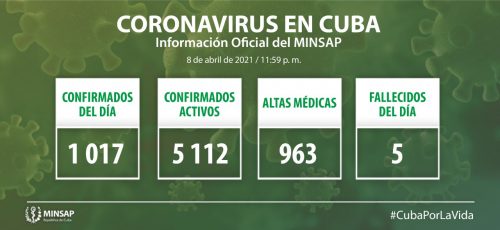 Havana, Apr 9.- According to the report of the Cuban Ministry of Public Health (MINSAP) on COVID-19 in the country, issued at the end of April 8, 15 new cases were confirmed in the province of Camagüey , distributed as follows by municipalities:
Camagüey: 11 (10 contacts of confirmed cases and 1 imported).
Esmeralda: 1 (confirmed case contact).
Minas: 1 (confirmed case contact).
Santa Cruz del Sur: 2 (contacts of confirmed cases).
The full report of the Ministry of Public Health:
At the close of this Thursday, April 8, a total of 24,263 patients have been admitted, 3,483 suspects, 15,668 under surveillance and 5,112 confirmed active.
For COVID-19, 21,180 samples were studied, resulting in 1,117 positive samples. The country accumulates 3,170,526 samples carried out and 84,532 positive.
Of the total number of cases (1,017): 987 were contacts of confirmed cases; 8 with a source of infection abroad; 22 without a specified source of infection, from the provinces.
Of the 1,017 diagnosed, 492 were female and 525 male.
46.1% (469) of the 1,017 positive cases were asymptomatic, accumulating 43,621 which represents 51.6% of those confirmed to date.
The 1,017 diagnosed cases belong to the age groups: under 20 years old, (167), from 20 to 39 years old, (310); from 40 to 59 years (353) and over 60, (187 cases). Ministry of Public Health of Cuba