Friday, April 9, 2021
Cuban swimmers will begin tour of European countries
---
---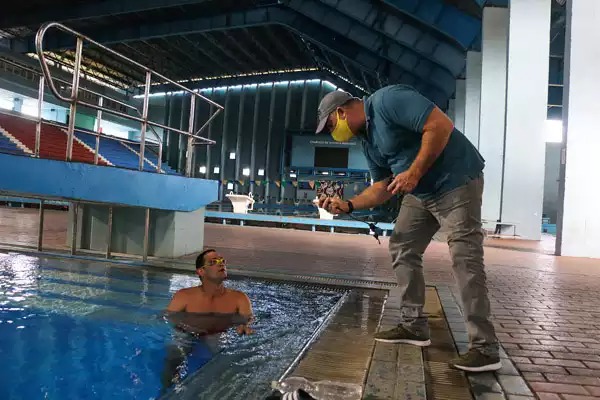 Havana, April 9.- Three Cuban handicapped swimmers will travel to Italy this Saturday, where they will begin a tour of Europe that also includes Spain and Portugal to fulfill part of their preparation for their Olympic commitments.
The Paralympic champion Lorenzo Hernandez leads the trio complete Yasmani Izquierdo, runner - up Games Parapan de Lima 2019, and Joviel Sánchez, fifth in the multisport event.
Coach Ernesto Garrido, silver in the Paralympic Games in Barcelona 1992, will accompany the team, guiding these athletes to the podiums they have won.
Garrido himself explained that from April 11 to 19 they will participate in a world series in Italy, then they will move to Bilbao, in the north of Spain, where they will carry out a training base for 26 days.
"We will close in Madeira Islands, Portugal, and host of the European championship from April 17 to 22. For Lorenzo it will be a good start, as he has already qualified for Tokyo, while Yasmani and Joviel have the goal of fighting for the ticket,"he explained.
His students have had to grow during the pandemic that is already over a year, training one stage in their respective homes and others in a kind of "bubbles" in Bayamo, Granma and Havana.
Pinto, as the prominent coach in the world of sports is known, revealed that despite epidemiological care at both sites, Hernández tested positive for COVID-19 upon arrival in Havana, which drove him away from the pool for 25 days.
"We want to thank the care provided at the Doctor Luis Díaz Soto (Naval) Central Military Hospital, and especially in room 7th-F, both by the doctors and nurses and by the rest of the staff in the week that required admission," he emphasized.
Hernández, now recovered, and in his training days at the Baraguá Swimming Pool Complex, Garrido puts the final touches on the preparation of the freestyle trio.
"The three are doing very well and we expect good results on this tour, very important both for Lorenzo's goals of winning medals again," he commented.
For his colleagues the task will not be easy at all, but they strive to be in the best sporting shape and secure places: Yasmani in the S-12 category (profound visual weakness) and Joviel in S-11 (totally blind).
The athlete from Granma, the highest winner of podiums for his country in multisport events, accumulates silver and bronze in the S-6 category (physically disabled) in London 2012, and gold and bronze in Rio de Janeiro 2016, in addition to five gold and three silver in the Para-Panamerican Games of Guadalajara 2011, Toronto 2015 and Lima 2019. (JIT)