Saturday, April 10, 2021
Casino Campestre, a site with remarkable cultural and historical values
---
---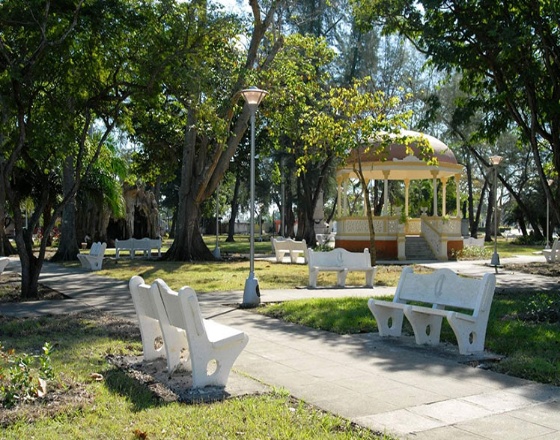 Camagüey, Cuba Apr 10.- Notable cultural, sculptural and historical values ​​stand out today in the area of ​​130 thousand square meters of the Casino Campestre, considered the largest urban park in Cuba.
In a city whose Historic Center is considered a World Heritage Site, this space is precisely adjacent to it, right on the banks of the Hatibonico River where the town of Puerto del Príncipe settled, founded in February 1514.
However, it was not until the mid-nineteenth century that the livestock fairs in the La Caridad neighborhood further encouraged trade in the sector that had already become the hallmark of the regional economy.
According to the researcher and professor at the University of Camagüey, Henry Mazorra, the architecture of the park is an imitation of urban country estates of its kind in important European cities of the time.
Emblematic is the beautiful ceiba tree in the heart of the park, planted on May 20, 1902, La Glorieta (1905) and La Gruta (1924), symbols of the recreational space that also houses institutions such as the Camagüey Zoo.
Among the monuments, the one dedicated to the young people involved in the literacy campaign of 1961 stands out, as well as others in honor of emblematic figures of regional culture such as Salvador Cisneros Betancourt, from 1928, and Gonzalo de Quesada Arostegui, secretary of José Martí, National Hero of Cuba.
Visitor's attention is drawn to the sculptural ensemble, a tribute to Barberán and Collar (1941), protagonists of the first crossing that crossed the Atlantic on the Seville-Camagüey flight, thus opening the route and the reopening of the ties between both nations for June 1933.
The Casino Campestre premises also hosted the scene where Camilo Cienfuegos, one of the architects of the Cuban Revolution, addressed the Cuban people for the last time on October 28, 1959, just before physically disappearing in a plane crash.
Sacred space for city and Cuban culture in general, the Casino Campestre Park, the green lungs of a city with more than half a millennium of life, stands among the most renowned sites by the tour operators that exalt Camagüey among the main city tourism destinations in Cuba. (Text and photo: PL)