Monday, April 12, 2021
Díaz- Canel salutes support of Cubans in Saint Vincent and the Grenadines
---
---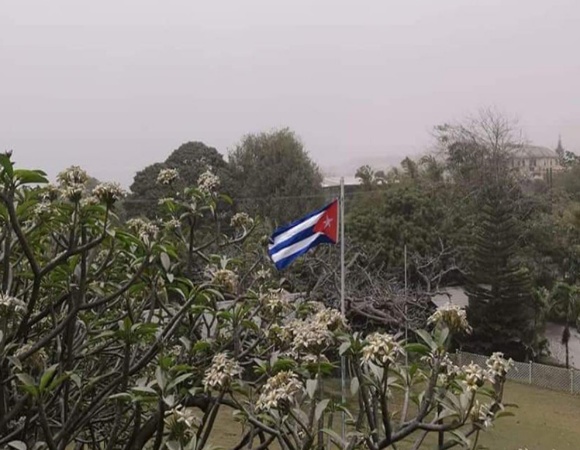 Havana, Apr 12 - The President of Cuba, Miguel Díaz- Canel , today greeted the work of diplomats, collaborators and fellow citizens residing in Saint Vincent and the Grenadines after the recent explosive eruptions of the La Soufrière volcano.
In a message published on his official Twitter account, the president also ratified his support for the people of the neighboring nation, affected last week by the activity of La Soufrière.
I embrace the collaborators of Health and Construction, our diplomats, the community of Cuban residents and the brother people of # SanVicenteYlasGranadinas who face the disaster of the eruption of the volcano # LaSoufriere. #Cuba and our flag accompany them, he wrote.
According to diplomatic sources in Kingstown, from the early hours of April 8, with the predictions of the explosive phase, the Cuban collaborators proceeded to comply with the planned contingency plan.
At the edge of 4:00 p.m. local time that day, the aid workers remained gathered at the embassy of the largest of the Antilles.
The Cubans had the support of the highest authorities of Saint Vincent and the Grenadines, particularly the Prime Minister, Ralph Gonsalves.
They also received the experience and suggestions of an important group of scientific organizations and institutions in their country.
On April 9, President Miguel Díaz- Canel, transmitted a greeting in a telephone call with the Cuban representatives and collaborators.
The Minister of Foreign Relations of Cuba, Bruno Rodríguez; the Chief of the Civil Defense Staff, Division General Ramón Pardo Guerra, among other officials from the Foreign Ministry and the Health Ministry also expressed their concern.
The 48 members of the health and construction brigade, as well as the more than 120 permanent and temporary residents of Cuba, are in the green or less dangerous zone, according to press reports.
The La Soufrière volcano, north of San Vicente, culminated a four-month phase of seismic activity on April 9 and exploded, throwing a 10-kilometer-high column of ash outward. (Text and photo: PL)