Monday, April 12, 2021
Photo exhibition inaugurated, First: Gagarin and Cuba
---
---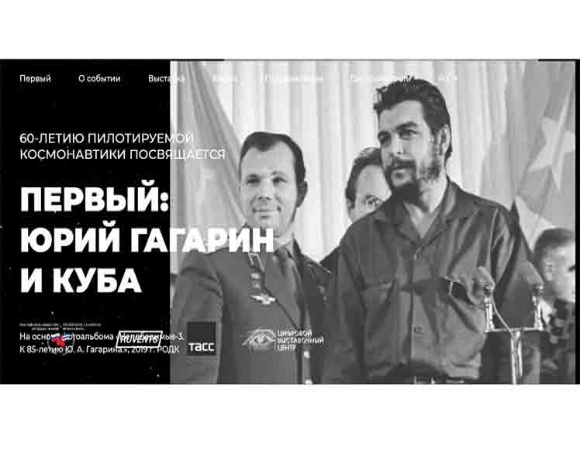 Moscow, Apr 12 - The photographic exhibition First: Gagarin and Cuba, an initiative of the Russian Society of Friendship with Cuba, was inaugurated today on the Internet, on the occasion of the 60th anniversary of the first flight of man to the cosmos.
From this Monday the virtual exhibition in Russian, Spanish and English can be seen on the site https://gagarin2021.ru/ .
Its inauguration coincided with the launch of the Vostok-1 spacecraft with Yuri Gagarin on board six decades ago.
The exhibition includes unique photographs and videos about a part of the cosmonaut's life and his relationship with Cuba, provided by the TASS news agency and activists from the Russian Society of Friendship with Cuba.
The Russian information technology company RUVENTS and the online event platform Digital Exhibition Center also cooperated.
According to the organizers, the images capture moments of sincere and emotional meetings of Yuri Gagarin with senior leaders of the Cuban Revolution and the people.
For the tribute, exhibitions of First: Gagarin and Cuba were inaugurated in universities, association headquarters, libraries and cultural centers of 60 cities in Russia and Kazakhstan.
Also the Society of Friendship with Cuba posted on its website https://roscuba.ru/ materials related to the date, among them, greetings from its president, Alexey Lavrov , the Cuban cosmonaut Arnaldo Tamayo and a documentary on the visits of Gagarin to the island.
On November 11, 1964, at a meeting in this capital, the first cosmonaut on the planet was elected president of the Soviet- Cuban Friendship Society and its principles, structure and goals were determined under his direct leadership. Gagarin traveled to Cuba three times, where he strengthened ties of friendship with Commanders Fidel Castro and Ernesto Che Guevara, in addition to sharing with the Cubans in various meetings.
According to historians, solidarity with Cuba was an important page in his life. The Hero of the Soviet Union led the Society until his death in a plane crash on March 27, 1968.
Like its successor, the current Russian Society of Friendship with Cuba highlights the memory of its first president and his role in strengthening the fellowship between the two countries. (Text and photos: PL)