Tuesday, April 13, 2021
Camagüey improves COVID-19 figures, precaution still needed
---
---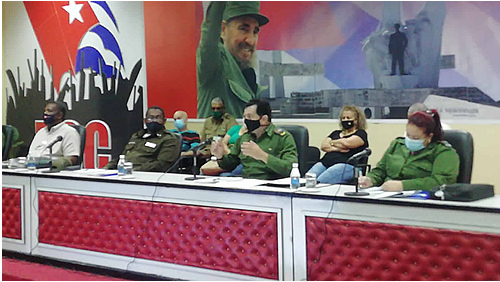 Camagüey, Apr 13 - During the last nine days, Camagüey shows a downward trend in the incidence rate of COVID-19 by 31.7, which places the territory in a better situation, so the measures applied until the moment not to reverse such a manifestation.
Dr. Reinaldo Pons Vázquez, head of the Health subgroup of the Provincial Defense Council, explained that only the main municipality, with 78.7 per hundred thousand inhabitants; and Minas, with 21.8, show indices above 20.
In the daily analysis for this Monday, Ariel Santana Santiesteban, president of the management and command structure, was interested in the specific situation in each of the defense zones of the capital of Camaguey, while checking other aspects that mark the epidemiological and economic panorama of the region.
Daniel Fuentes Milanés, highest representative of that body in the municipality of Camagüey, added that the areas established today are maintained with the reinforced surveillance system and movement restriction; while PCR studies are carried out in places identified with risks, such as the San Francisco and Villa Mariana districts.
For her part, Carmen Hernández Requejo, head of the Evacuation Commission, explained that 1,013 people remain in 40 isolation centers, among which are more than three hundred contacts of positive cases and a figure of more than one hundred travelers residing in the country and abroad, in the different institutions authorized for them.
Other issues evaluated were the progress of the recovery of the damages caused by the recent severe local storm and the deficient hygiene in some parts of the City of Tinajones.
Several concerns of Camagüeyns were also reviewed with the representatives of the corresponding organizations, such as agglomerations in commercial units, which could cause a regrowth if such behavior is not transformed. (Text and photo: Juan Mendoza Medina / Radio Cadena Agramonte)