Wednesday, April 14, 2021
Jorge Moisés Campos advances in Cuban table tennis pre-Olympic
---
---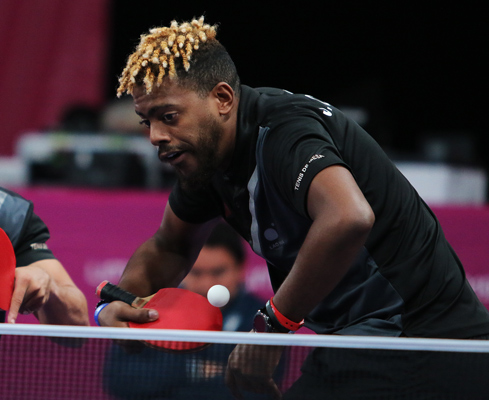 Havana, Apr 14 - As the opposite of the local Gastón Alto, Cuban Jorge Moisés Campos will leave this Wednesday in the quarterfinals of the Latin American Table Tennis Qualifying Tournament, which distributes places for the Tokyo 2020 Olympic Games in the Argentine city of Rosary beads.
After the defeat by easy 4-0 (11-3,11-2,11-7,11-6) to Jamaican Kane Watson in his first game, Moses achieved success in the round of 16, when he also beat for 4 -0 (11-8,11-5,11-6,11-7) to Paraguayan Marcelo Aguirre, first seed of the contest.
The South American is looking for his fourth consecutive appearance in the Olympic games and seemed a very difficult opponent, but this time he could not show his best level against the Caribbean.
"I tried to be focused and I was varying the tactics of the game as I saw the results of my actions, but the main thing was to stay focused," Campostold JIT, who is currently a member of a first division club in Italy.
"The serve helped me a lot, he had problems receiving and that opened the way for me," confessed the also member of the champion team at the Central American and Caribbean Games in Barranquilla 2018.
Now in the round of 16 he will have another rival of great rank, who will also have the "advantage" of being a local in the Metropolitan Hall, but the game will have the incentive to try for revenge.
Gastón Alto eliminated Campos at the Lima 2019 Pan American Games with a close score of 3-2 and the idea is to vary that this time.
The other Cuban with actions this Tuesday was Andy Pereira, who after a comfortable 4-0 (11-2,11-2,11-3,11-5) against Uruguayan Pablo Palou gave up 0-4 (9-11, 3-11,2-11,8-11) against Argentine HoracioCifuentes, one of the favorites for the quotas in dispute.
Andy, competing in London 2012 and Rio de Janeiro 2016, still has the option of looking for a ticket in the second key that will be played between Thursday and Friday.
In the current elimination, the two who reach the final will be left with passes to Tokyo, and the same will happen in the second segment.
The women will begin their matches Tuesday night, but Cubans Idalys Lovet and Daniela Fonseca will not have actions until Wednesday morning.
Among them there will only be three tickets at stake, while on Saturday the only passport offered for mixed doubles will be defined. (JIT)