Wednesday, April 14, 2021
XIII International Convention on Environment and Development called
---
---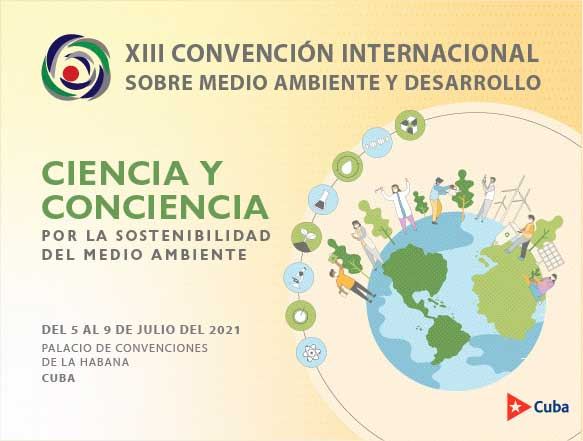 Havana, Apr 14 - The Environment Agency of the Ministry of Science, Technology and the Environment , together with other entities and organizations, summons to participate in the XIII International Convention on Environment and Development, which will take place from 5 to next July 9 at the Havana Convention Center.
Researchers, authorities, educators, specialists, managers, entrepreneurs, professionals, producers and other people from around the world who work for the sustainability of the planet are called to participate.
The information, published on the page of the Cuban National Commission of the United Nations Educational, Scientific and Cultural Organization (UNESCO), warns that this time participation will be in the face-to-face and virtual mode, respecting sanitary measures of distancing.
The previous editions of this conclave have achieved an attendance of more than 10,400 people, of which approximately 50 percent correspond to visitors from more than 60 nations from the five continents.
It highlights that the upcoming event will promote cooperation between countries, the exchange of experiences and sustainable practices and the transfer of knowledge, as well as sustained and inclusive economic growth, participatory social development, protection of the Environment and the dignity of the human being.
The Convention will be organized in various events that will cover highly relevant topics such as the XIII Congress on Environmental Education for Sustainable Development, the XII Congress on Protected Areas, the X Congress on Environmental Management, the VIII Congress on Ecosystem and Biodiversity Management, the VII Congress on Climate Change, the V Congress of Politics, Justice and Environmental Law and the I Geospatial Sciences and Disaster Risk Congress.
In addition, an Associated Exhibition of Technologies, Projects and Environmental Experiences will be presented, as in previous years.
Among the objectives of the Convention are to present research results on the latest high-level scientific findings, in terms of the explanation of the phenomenon, the integration of phenomenon-risk management, capacities / education and awareness.
Also, share experiences in response strategies to climate change (adaptation - mitigation), show examples of applied actions that promote mitigation-adaptation-metrics-development and generate a dialogue on the national and international experiences of scientists, decision-makers and citizens. on the impacts of climate change, and its consequences for socio-economic development.
There will be several special panels, among them " United Nations Framework Convention on confronting Climate Change", and "Life Task: successes, limitations, lessons learned and projection of the medium term of the State Plan for confronting Climate Change". (ACN)