Saturday, April 17, 2021
Fidel, we continue forward with loyalty and unity
---
---
By Yamylé Fernández Rodríguez / Colaborator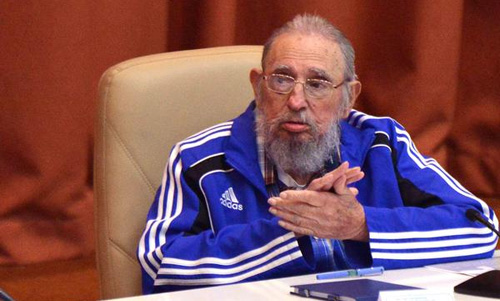 In these days of the VIII Congress of the Communist Party of Cuba, the memory of that sublime moment of the previous conclave emerges, in April 2016, when Commander-in-Chief Fidel Castro Ruz made a masterful intervention at its closing.
The maximum leader of the Cuban revolutionary process in the last 60 years, could not stop talking to his children in a context like that, when he already sensed that by natural law of life it would be -probably- the last time he would attend an event of that kind.
As a father he addressed the militancy gathered at the Palacio de las Convenciones, in Havana, to share the reasons that led him to become a communist when he was just a 20-year-old boy, and reiterate his permanent concern for fate of humanity in the face of the acceleration of climate change.
His words impacted those present and also those of us who followed his speech through radio and television when he said: "We will all have our turn, but the ideas of the Cuban communists will remain as proof that on this planet, if works with fervor and dignity, the material and cultural goods that human beings need can be produced, and we must fight relentlessly to obtain them (…) It may be the last times that I speak in this room".
And it is that for the millions of grateful for the immense social work dreamed and led by Fidel, the idea that one day he would not be physically there was impossible.
We intuit that the legendary revolutionary was saying goodbye to his people, but at the same time he left a great task summarized in an idea that became part of his political will:
"We will set out on the march and perfect what we have to perfect, with meridian loyalty and united strength, like Martí, Maceo and Gómez, in unstoppable march."
Months later, on November 25 of the same year, Fidel passed into immortality coinciding with the date of his departure in 1956, on the yacht Granma from Tuxpan, Mexico, with the principle of being free or martyrs.
The generation that until that moment knew itself to be a replacement assimilated with greater objectivity that it was up to them to assume the present and continuity. And well that it has shown it in the last five years in the face of an economic blockade more intensified than ever by the United States government, in the midst of a fierce ideological war and, since last year, under the effects of an unprecedented pandemic in Cuba.
Even so, the men and women of this generation continue to march forward, united and inspired by the strength of the principles of the eternal leader of the Cuban Revolution who in that farewell, in April 2016, firmly declared: "To our fellows in Latin America and the world we must tell that the Cuban people will lead the way. "
Keeping this promise is a matter of honor. (Photo: File)