Sunday, April 18, 2021
Torrens, a Hero of Labor
---
---
By Miozotis Fabelo Pinares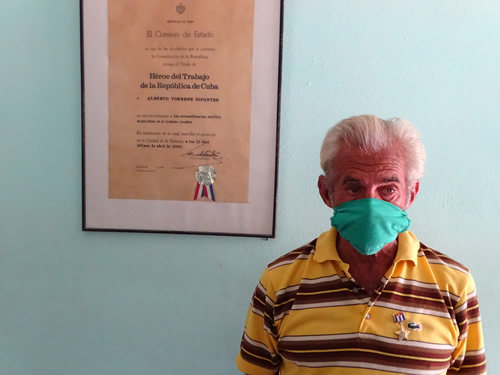 Alberto Torrens Sifonte is an experienced and innovative mechanic from Camagüey, recognized in 2003 with the Title of Hero of Labor of the Republic of Cuba, for his contributions in the Lenin Workshops, of the sugar sector.
"My performance there was to repair the engines used in the sugar harvest, and in voluntary works for the Vanguard Movement, I reched the figure of 1,100 engines."
Regarding the VIII Congress of the Communist Party of Cuba (PCC), Torrens comments that "the sessions have seemed very good to me; I listened in full to the speech of comrade Raúl Castro, when presenting the Central Report, and I see the courage they have to try to move our country forward, in everything.
The Congress of the PCC meets under the principle of historical continuity. For example, we have Díaz- Canel, my opinion is that he has done a magnificent job, and like him, there are quite a few that the Revolution can trust.
"Like this Revolution, there is no other; here we have freedom; and that is why we must fight so that this country continues in its own way, in the Revolution that we have".
Close to May Day, the Hero of Labor of the Republic of Cuba, Alberto Torrens Sifonte, regrets that this year "there will be no parade; but each neighborhood will celebrate the date in some special manner.
"Neither can the sanitary conditions be neglected; but here we have no problems, even the children wear the mask; and some undisciplined that we had, they already comply, after the measures of fines they received for violating the protocols, and that has taught them to do things properly".
Alberto Torrens is retired, but, "if they need me, I go to the Lenin Workshops, and I make my contribution."
The people from Camaguey support the pronouncements of the VIII Congress of the Communist Party of Cuba, and prepare for May Day, at home and in each working group. (Photos: Humberto Cid / Radio Cadena Agramonte)