Monday, April 19, 2021
Communist Party of Cuba: the party of a grateful generation          
---
---
By Jorge Enrique Fuentes Ruiz / Radio Cadena Agramonte.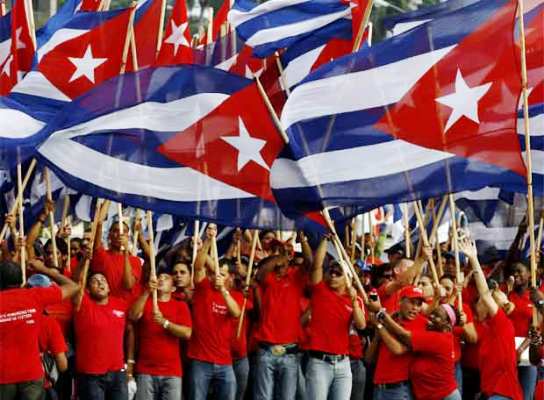 Cuba deserves a very large gold medal for being a paradigm of resistance. Never before has another nation been subjected to a cruel economic, financial and commercial siege, such as the one carried out in a genocidal way by the United States government against the Island.
Without hesitation I assert that linked to that brutal persecution and economic war, a vile and aggressive media war is also looming over the Cuba, unprecedented in the history of mankind, which minute by minute tries to discredit and tarnish the beautiful and beautiful work of the Cuban Revolution.
It is in this context, when the vast majority of Cubans reaffirm fidelity to the revolutionary process, and an example of this is the progress in the vaccine candidates against COVID-19 -in full clinical trials- as well as the intense internationalist work of the Henry Reeve Contingent, made up of brave doctors who save thousands of lives around the world every day.
I have the historical merit of belonging to the pines new militants of the Communist Party of Cuba, and as a member also of the Union of Young Communists I am aware that these hard times of pandemic and resurgence of the brutal Yankee imperialist blockade, are translated into the Girón de the new generations.
We are living a month full of history, therefore, the grateful ones do not forget the attacks on the airports of Ciudad Libertad, in Santiago de Cuba, and on the air base of San Antonio de los Baños, on April 15, 1961, and neither does it fall in the forgetfulness that two days later more than a thousand mercenaries paid by the United States government disembarked at dawn in Ciénaga de Zapata, south of Matanzas, to try to destroy the sovereignty achieved with the blood and sacrifice of thousands of the best sons of the Nation.
Faced with that historical memory, is that Cuba lives its VIII Congress of the Communist Party, confident in the unity and continuity as a guarantee of the indestructibility of the Revolution, on the date that includes the days of April 16 to 19 and that refers to the first great defeat of Yankee imperialism in Latin America.
We, the youths, are called to be better workers, militant sacrifices and unconditional workers to the historical legacy that we have received.
We are not deceived by the siren songs, the seductions of the imperial digital platforms, the alienating pseudoculture or the hegemonic cultural industry that, in exchange for our disappearance as a nation, offer the trifles and pleasures of a dying capitalism that does not constitute, in any way, the best option for the globe to move forward.
This is the time to stand up and reaffirm more than ever the socialist character of the Cuban Revolution, proclaimed 60 years ago by the undefeated Commander in Chief Fidel Castro Ruz.
The die is cast. We will live and win. (Photo: File)