Monday, April 19, 2021
Fernando Arzola opens Cuban medal board in World Youth Boxing Champ
---
---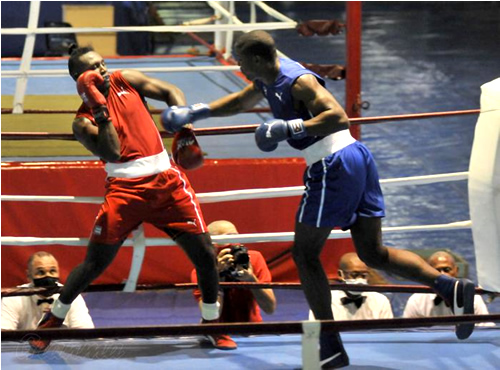 Havana, Apr 19 - The supercomplete from Santiago Fernando Arzola opened the Cuban medal table this Sunday, on the sixth date of the Youth World Championship that takes place at the Hala Legionow Complex, in the Polish city of Kielce and will end on the 23rd.
Arzola fought well from the outside and secured a bronze medal this Sunday by beating Croatian Josip Coric by unanimous vote of 5-0 (quadruple 30-27 and 29-28), who was very assimilated against the powerful right-wing straight players received. For silver, the giant from Santiago will face the Armenian Hovhannes Papazyan next Tuesday.
In addition, on the day there were another three triumphs and one defeat for the troop of head coach Santiago Suárez, with which Cuba closed the sixth day with 17 wins out of 19 fights fought. And the winners secured the pass to dispute bronze in the day of tomorrow.
In the 60 kilograms, Jadier Herrera from Camagüey beat Indian Akash Gorkha 4-1; welterweight from Santiago Dany Lafos forced the beating of Jordanian Anas Alasa'di to stop in the second round, and Bryan León (PRI, 81kgs) got rid of Moldovan Valerio Razmerita 5-0.
The defeat this Sunday, second to the endorsement of the Cuban team, was conceded by the middleweight Albert González, 3-2 against the Brazilian Isaías Filho.
For bronze, this Monday Herrera will face the fast Japanese Reito Tsutsumi; Lafos will do it against Moldovan Vladislav Gudzi, while León will face Petar Lijesevic.
Today Cuba will also have three other fighters in the marathon quarterfinal lineup, for a total of six. Saidel Horta (56 kgs) will go up to the ring against the Kazakh Yarbolat Sabyr; Damian Favier Castro (64 kgs) will rival the also Kazakh Sabirzhan Akalykov, and the cruiserweight Jorge Luis Felimón will fight against Ukrainian Mykyta Gorbatenko. (ACN)