Wednesday, April 21, 2021
Raúl Castro congratulates the Eastern Army on its 60th anniversary
---
---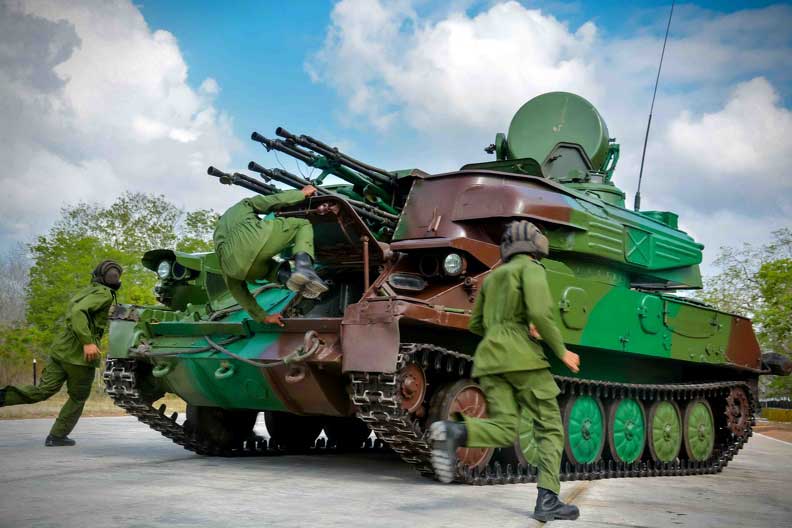 Holguín, Apr 21.- Army General Raúl Castro congratulated the Eastern Army, on the occasion of the 60th anniversary of its founding today, two days after Cuba's victory over the mercenary invasion of Playa Girón.
In a congratulatory letter, the main founder of that command in 1961 recognized the efforts of the Revolutionary Armed Forces (FAR) and the Ministry of the Interior (MININT) in the defense of the Homeland, expressed his infinite gratitude to the Cubans who did so. They accompanied from the beginning of this process, and honored the fallen in the line of duty.
Raúl Castro's letter was released at the central ceremony commemorating the birth of the Eastern Army, which took place this Wednesday in a unit in the military region of Holguín.
The General of Division and head of the Eastern Army, Agustín Peña Porres, highlighted in the ceremony the work carried out by this command and its principles to preserve the initial essence of its units in defense of the Homeland, the contributions to Cuban dignity from different international misions, socio-economic development and the confrontation with COVID-19.
During the ceremony, the Army Corps General Ramón Espinosa Martín, first vice minister of the FAR, was recognized in a special way for his performance for around 27 years at the head of this armed institution.
40 combatants were also decorated for their satisfactory results in combat and political preparation, and a group of soldiers and officers received the card that accredits them as members of the Union of Young Communists.
First Lieutenant Doralis Ortiz Fernández, on behalf of the new generation of officers, expressed the pride of the collective for representing the continuity of the work of the founders of the Eastern Army and reaffirmed their participation in the battle scenarios that the country demands.
Participating in the commemorative activity were Ulises Guilarte de Nacimiento, member of the Political Bureau of the Central Committee of the Communist Party of Cuba and secretary general of the Central de Trabajadores de Cuba; and Army Corps General Ramón Espinosa Martín, first deputy minister of the FAR.
Also attending the commemorative activity were the presidents and vice presidents of the Defense Councils of the eastern provinces and Camagüey, as well as heads of the FAR and MININT. (Text and photo: ACN)