Wednesday, April 21, 2021
Díaz- Canel advocates for Ibero-American inclusion to promote development
---
---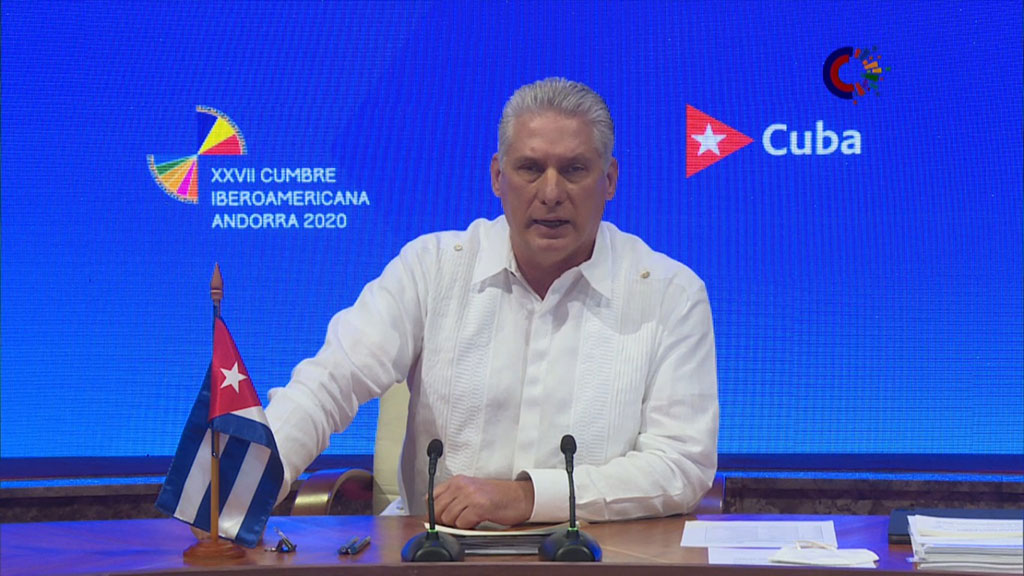 Havana, Apr 21- The first secretary of the Central Committee of the Communist Party of Cuba and president of the Republic, Miguel Díaz- Canel Bermúdez, participated in the XXVII Ibero-American Summit of Heads of State and Government Andorra 2021.
During his speech, the president referred to Cuba's experience in confronting COVID-19, based on a government management system based on science and innovation.
He explained that Cuba has experiences to show and attaches special importance to the subject of this appointment. In just one year, a devastating pandemic has worsened the living conditions of millions of human beings on the planet and caused the worst economic downturn in decades, in contrast, five years after its adoption, little progress has been made in implementing the 2030 agenda. There is talk of the multiple crises generated by COVID-19 but some problems are dozens of years older.
"Developing countries bear the burden of a foreign debt paid a thousand times over and some, additionally, suffer the impact of coercive, unilateral measures that violate international law and obstruct their legitimate right to development."
Until a fair, democratic and equitable economic order is established that allows us to learn more about the root causes of inequalities in order to advance towards the sustainable development goals, these will continue to be chimeras for most of the countries of the world, said Díaz- Canel.
"Let's be honest, the current development paradigms cause poverty and the explosion of the majority due to their irrational patterns of production and consumption, which under the designs of the market disdain what is most valuable: life and human dignity."
An inclusive Ibero-America that takes into account the development interests of all the members of this conference can favor the advancement of our nations, he said.
"Sustainable development demands political will, solidarity, cooperation, financial and economic transfers from developed countries, and equitable access to those resources that takes into account inequalities."
The pandemic has laid bare an indisputable truth, the health and social protection systems, education, science and technology and the material resources available must be put in the function of all and not at the mercy of a few.
Just over a year after the first cases of COVID-19 were detected in the country, the president said, Cuba has five vaccine candidates, two of them, Soberna 02 and Abdala, in phase III of clinical trials and we hope to immunize the entire Cuban population before the end of 2021 with their own vaccines.
"Our national plan for economic and social development until 2030, aligned with the Sustainable Development Goals, gives a leading role to scientific research."
The links between government structures have been strengthened with the sectors of knowledge and the production of goods and services to promote innovation based on economic and social development with emphasis on social development.
Regarding the geopolitical situation in the Latin American region, the president defended Venezuela's right to sovereignty.
He also thanked Cuba for its support in the claim to end the economic, commercial and financial blockade of the United States against the island. (Text and photo: Radio Rebelde)