Thursday, April 22, 2021
Date dedicated to the 54th anniversary of the Cuban Book Institute begins in Camagüey
---
---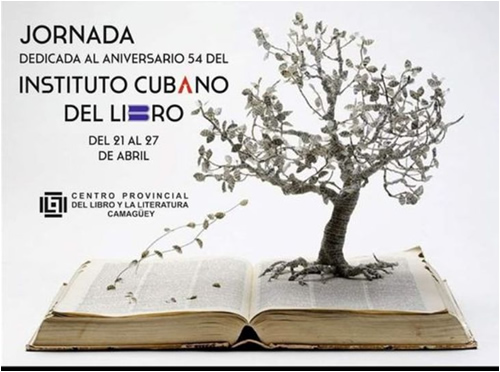 Camagüey, Apr 22 - The day for the 54th anniversary of the Cuban Book Institute (ICL) began the day before in Camagüey and will run until April 27, the day on which the cultural institution will celebrate the date of its creation.
Throughout the event, the work of professionals who have worked during these years in different literary entities will be recognized and current achievements and challenges will be addressed, all through different spaces in the mass media.
The Provincial Book and Literature Center (CPLL) proposes a program that will also find its stage on social networks and will include a tribute to the writers and researchers Olga García Yero and Luis Álvarez Álvarez, recently declared Honorary Members of the Academy of Sciences from Cuba.
Yunielkis Naranjo Guerra, director of the CPLL, explained that they will mainly highlight the work of the Cuban Book Institute and the Provincial Centers in the marketing and promotion of writers and their works.
"We will have meetings such as Narrowing Spaces, in the Camagüey branch of the Hermanos Saíz Association, where the 2017 National Literature Prize, Luis Álvarez Álvarez will assess the performance of the ICL in society.
There will also be readings of poetry and narratives and presentations of artistic talent where literature will be mixed with all artistic manifestations, as this will be the "highlight" from April 21 to 27, with around four daily activities ".
The program dedicated in Camagüey to the Cuban Book Institute, on the occasion of the 54th anniversary of its foundation, has become a well-deserved recognition of an institution of great prestige that contributes to satisfying the reading needs of all audiences and facilitates the creation, publication and promotion of national authors. (Mónika De Los Ángeles Escobedo Artola / Radio Cadena Agramonte) (Photo: taken from the Facebook page Libro Camagüey)