Friday, April 23, 2021
Cuban authorities and intellectuals attend presentation of the book New Universal History
---
---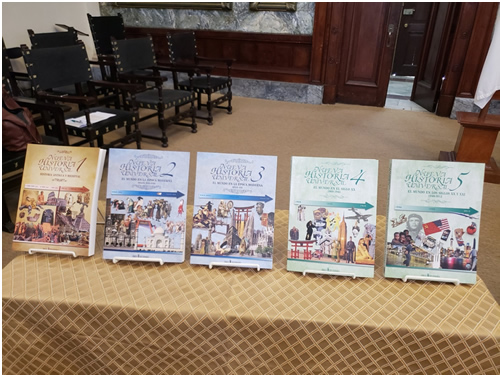 Havana, Apr 23 - The New Universal History book was presented this Thursday in the Aula Magna of the University of Havana (UH), in the presence of the ministers José Ramón Saborido Loidi and Alpidio Alonso Grau, of Higher Education and Culture, respectively, and of other personalities.
Also present were the Doctor of Science Miriam Nicado García, rector of the capital's house of higher studies, the prestigious intellectual Miguel Barnet Lanza; Luis Morlote Rivas, president of the Union of Writers and Artists of Cuba, and Luis Velázquez Pérez, president of the Cuban Academy of Sciences, among others.
As an extraordinary gift for the people, he described the work Abel Prieto Jiménez, president of Casa de las Américas, adding that it constitutes an exceptional contribution in the battle against induced amnesia, situated at the very center of the contemporary structural crisis and caused by distortions of the entertainment industry.
He argued that this collection is very well thought out, since the authors constantly argue against malicious versions of History, from a decolonized and decolonizing point of view.
Universal history is presented in an attractive, absorbing and pleasant way, as Commander in Chief Fidel Castro Ruz wanted, so that all Cubans are passionate about this matter, he said.
Sergio Guerra Vilaboy, National Prize for Social Sciences, explained that it was precisely the historical leader of the Cuban Revolution who motivated the creation of this project about twenty years ago, when he emphasized the need to have a universal history written from the Third world, Latin American and Cuban position.
This text, continued the also head of the Department of History at the UH, is also accessible to the reader and capable of captivating youth, in order to contribute to cultural enrichment, update approaches, and contribute to university education.
Guerra Vilaboy coordinated the book together with the Doctor of Science Constantino Torres Fumero, and seven professors of the subject worked at the UH in its realization, who accumulate almost half a century of experience in teaching and research, and many with publications on specific areas of The matter.
They were joined by distinguished designers and editors in charge of the Ediciones Imagen Contemporánea team of the Casa de Altos Estudios Don Fernando Ortiz.
Doctor of Science Eduardo Torres Cuevas, director of the aforementioned institution, insisted that this proposal not only tells the historical-social events, but also addresses culture, art and literature, for a more complete vision of each era.
He pointed out that his images, approximately 400 in each volume, are intertwined in an artistic way as one more ingredient and original and creative elements are presented with the purpose of provoking a new interest in reading.
This fruit of arduous and difficult work, added the National Prize for History and Social Sciences, seeks to promote a broader and more structured knowledge of History, since revolutionary formation would not be possible without a revolutionary culture.
Torres Cuevas said that it is necessary to take this book to all spaces to fulfill the desire of Fidel and the Apostle José Martí for a cultured and free people.
In this sense, he informed that a multimedia and a digital version (PDF) of the work are being prepared, which will expand the possibilities of disseminating it. (Text: ACN) (Photo: Taken from Omar Valiño's Twitter profile)