Wednesday, April 28, 2021
Colombian irregular groups implement destabilizing strategy on Venezuelan border
---
---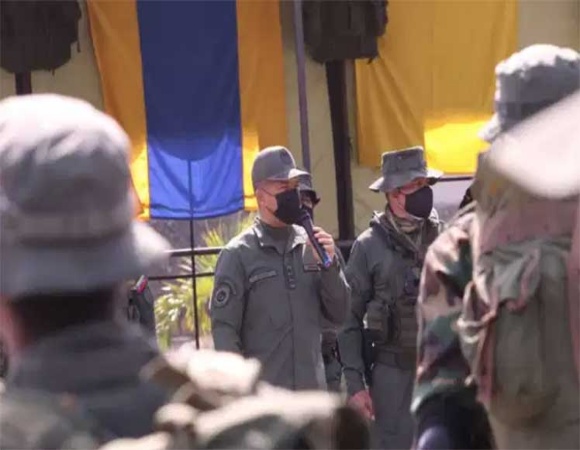 Caracas, Apr 28.- The presence of Colombian irregular groups in the state of Apure today responds to a strategy to measure the operational capacity of the Venezuelan armed forces, with destabilizing purposes, specialized sources warned.
In statements to the analysis portal Hinterlaces, Deputy Gerardo Márquez affirmed that the armed clashes that took place in the border demarcation are part of a continued coup against the South American nation by the United States, in complicity with the Government of Colombia.
The also leader of the United Socialist Party of Venezuela highlighted the capacity of the Bolivarian National Armed Forces in containing these destabilization actions.
Our FANB has demonstrated a high operational level and a strong response capacity in Táchira, Apure and areas of the state of Zulia, (…) managing to withdraw the paramilitaries to Colombian territory, Márquez stressed.
In turn, the lawyer and master's degree in Philosophy of War Fernando Rivero estimated that the current stage of aggressions against Venezuela is characterized by the development of attrition maneuvers against the FANB.
On a tactical level, this implies guerrilla warfare tactics through Colombian irregular groups in order to consolidate a beachhead from which to launch operations towards the center of Venezuelan territory, said the expert.
Márquez agreed with this vision, highlighting that the paramilitary strategy lies in concentrating the Bolivarian National Armed Forces on the border, in parallel with general destabilization and chaos in the central states of the country.
The military high command of Venezuela ratified the day before the reinforcement of pressure actions to neutralize the incursion of paramilitaries from Colombia.
From Apure we continue to increase the force, executing operations to combat and expel Colombian irregular drug trafficking terrorist groups (…), stressed the head of the FANB's Strategic Operational Command, Remigio Ceballos.
Through the social network Twitter, the Chief Admiral asserted that the defensive maneuvers will continue until the definitive expulsion from the national territory of those armed gangs, which were dealt heavy blows, he said.
The Venezuelan Ministry of Defense reported on Monday on the intensification of the fighting against these groups that generate violence, specifically in unpopulated sectors west of La Victoria, in the Páez municipality, as part of the Bolivarian Shield operation 2021, which began on 21 December. March.
In the armed clashes, a significant number of casualties were inflicted on the paramilitaries, in addition to achieving the destruction of temporary facilities that they intended to use for their activities.
We reiterate the firm decision to consolidate an absolutely free state of Apure, restoring peace and tranquility to the inhabitants of the area, said the armed institution. (Text and photo: PL)