Thursday, April 29, 2021
Virtual chess match will pay tribute to José Raúl Capablanca
---
---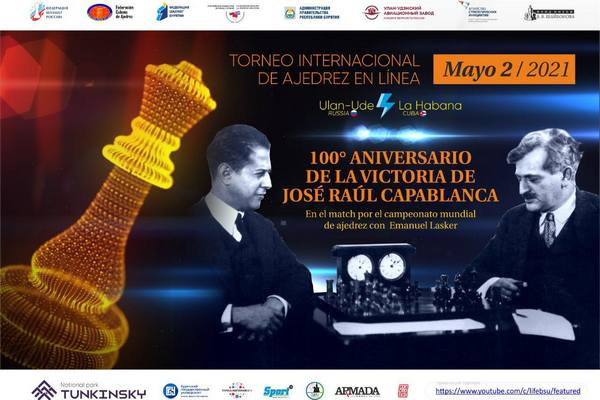 Havana, Apr 29 - An online chess match between selections from Cuba and Buryatia, State of the Republic of Russia, will become a tribute on May 2, the centenary of the world coronation of José Raúl Capablanca.
The meeting will put virtual boards through seven players from each country, including three under the age of 15, and two matches of 10 minutes each were agreed to on the lichess.org platform.
According to the information offered by the national commissioner Carlos Rivero there will also be live broadcasts on YouTube and Skype channels, as the event has generated great interest and enthusiasm on the Russian side, and will feature an inaugural message from the president of the International Chess Federation. (Fide), Arkady Dvorkovich.
Cuba will depend on its first board on the national champion Carlos Daniel Albornoz and will have in the following positions Yasser Quesada and Luis Ernesto Quesada, all with the title of Grand Master (GM), while the female representative will be Lisandra Ordaz, queen of the Island, from Pinar del Río.
César Tamames, Daniel Hidalgo and Aliett Valdés will play among the minors, all three with experience in the virtual modality, especially since the covid-19 pandemic began and this form of confrontations became popular.
Buryatia also chose three GMs for its lead: Zhamsaran Tsydypov, Anton Shomoev and Sambuev Bator. Inna Ivakhinova will defend the women's board and the U-15s will include Erdem Khubukshanov, Tamerlan Chyndygyr and Sogina Komissarova.
Capablanca defeated the Alaman Enmanuel Lasker in April 1921, became the third monarch in history and in addition to being one of the most distinguished for his genius for facing chess, he is still the only Latin American who has achieved such merit. (JIT)