Thursday, April 29, 2021
Cuban COVID-19 vaccines clinical trials at a good pace
---
---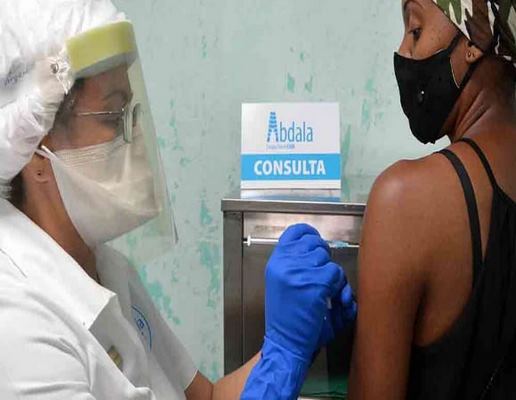 Havana, Apr 29 - With the application of the last doses of Abdala in the eastern region, the administration in the coming days of the third immunization of Soberana 02 in the capital and the development of intervention studies, clinical trials advance of the Cuban vaccine candidates to achieve the certification of the drugs and the subsequent vaccination of the entire Cuban population.
In order to guarantee the industrial scaling of these vaccine candidates developed by the Center for Genetic Engineering and Biotechnology and the Finlay Vaccine Institute, these institutions link their production with that of the Aica Laboratories and the National Center for Biopreparations, respectively.
Regarding the Aica Laboratories, Antonio Vallín García, its general director, said in the radio-television program Mesa Redonda that all the batches manufactured of the vaccine candidate Abdala have been 100 percent satisfactory.
At the same time, he pointed out that one day, and one day, between 280 and 300 thousand doses of the candidate are not produced and there are currently three batches on an industrial scale.
While Dr. Gabriel González García, BioCen's production director, ratified the good practices in the center and its capacities to assume the productive scaling of Soberana 02.
In that institution, previously the more than 300 thousand doses necessary for phase III of the clinical trial were produced in the eight municipalities of the capital and the intervention study in the population at risk, mainly in the health sector, biopharmaceutical and other defined segments by the Ministry of Public Health.
For his part, Vicente Vérez Bencomo, director of the Finlay Vaccine Institute, assured that the combination of Soberana 02 and Soberana Plus, two doses of the first and one of the second, showed high levels of immunity in phases I and II of the essays.
As for Soberana Plus, he stated that it is evaluated in 450 convalescent of the disease, with the intention of avoiding reinfection by the SARS-CoV-2 virus, and pointed out that a campaign is planned for June that will include other people recovered from the disease.
The Cuban scientist said that they await authorization from the Center for State Control of Medicines, Equipment and Medical Devices (CECMED) in order to start the clinical study in the pediatric population, with three doses of Soberana 02 plus Soberana Plus or three doses of Soberanan 01.
Similarly, he indicated that they already have the design of the phase II trial of Soberana 01 in the province of Cienfuegos, prior approval of the regulatory entity CECMED.
Cuba also has Mambisa, an immunogen of the CIGB that is administered by nasal route and which is in the final stage of design and presentation of a Phase I / II clinical study in convalescent patients. (Text and photo: ACN)