Friday, April 30, 2021
Cuban youth will celebrate International Workers' Day through social networks
---
---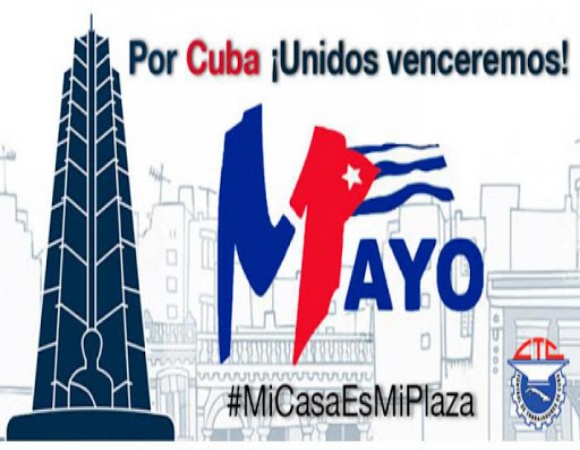 Havana, Apr 30 - Cuban youth will once again make history this May 1st together with their people, when they turn social networks into colorful squares to celebrate International Workers' Day with joy.
Although the usual scenarios are forbidden to us by the strong scourge of COVID-19, we will still star in a joyful and combative day to reaffirm the commitment of the "new pines" with the Homeland, the Revolution and the future, NislayMolina Napoles, member of the National Bureau of the Union of Young Communists (UJC), told ACN.
Virtual will be the parade, with the invitation to each young person to share on the networks images of their participation in any of these memorable celebrations or that reveal their profession or trade, with emphasis on their hands, uniform, tools, means and workplace from where it contributes to the development of the country, he explained.
In photos and videos they will also be able to show the way in which, together with their family, at home, they celebrate this May Day, the facades of the houses and the neighborhood adorned with Cuban flags and ribbons with their colors red, white and blue, meant.
Those who work this Saturday will have much the same to share, from the morning at their workplace, to productive initiatives, a rally, messages from their group and even "direct" regarding the commemoration, said Molina Napoles.
He added that through their Facebook pages, the UJC and other student and youth organizations and movements will reproduce live the Special Magazine and the Virtual Parade that will be broadcast by Cuban Television from eight to 10 in the morning.
Immediately afterwards the voice of the start will be given for a giant tweet, which for two hours will shake, this time not the squares, but cyberspace, to proclaim to the world our inalienable decision to carry out this Marti, socialist and fidelista project, Until victory, always!
Unity, continuity, responsibility, commitment: we will talk about all this, as well as the contribution of the young generation to the economic recovery of the country in tasks as crucial as food production, and about that other great battle, for health and life, in the face of COVID-19, added the young leader.
There will be, of course, the condemnation of the economic, commercial and financial blockade of the United States government against Cuba, and the just claim of the definitive and total cessation of this genocidal policy, the crude media campaigns, the attempts at destabilization and subversion, condemned, as always, to the most resounding failure, he emphasized.
Nothing and no one will be able to subdue this heroic people, a people of Homeland or Death, who defeated the Empire in Girón and 60 years later, in the face of all the storms, continues to fight, on an unstoppable march towards victory, he added.
Molina Naples, in the National Bureau of the UJC serves the ideological sphere, mentioned as labels for tuitazo tomorrow # 1Mayo, # UnidosHacemosCuba , # UnidosVenceremos , # Cuba, #UJC and # TúEresElPresente , while leading accounts They will be @ UJCdeCuba , @ DiosvanyUJC , @ UlisesGuilarte and @ CubaCentral . (Text and photo: ACN)