Friday, April 30, 2021
Attack on Cuban embassy qualified as an act of hatred in Brazil
---
---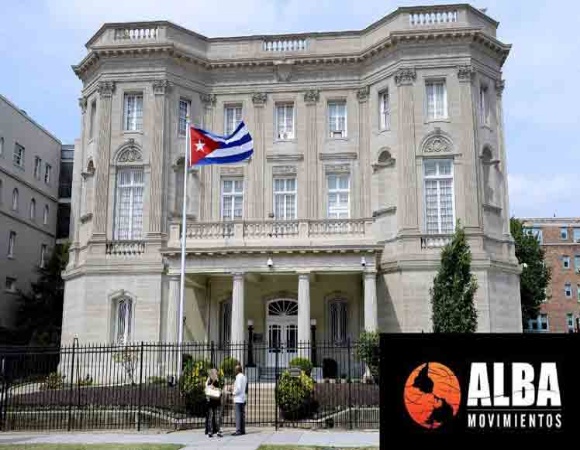 Brasilia, Apr 30 - Members of the Alba Movements-Brazil Chapter described the attack perpetrated a year ago against the Cuban Embassy in Washington as an act of hatred, as a cowardly demonstration of diplomatic animosity.
This aggression reinforces the constant hostility of the US government towards Cuba, militants from social and political organizations members of that regional bloc denounce in a letter sent to the mission of the Caribbean island in this capital.
After reviewing the attack, which it considers terrorist, the group denounces that, despite the seriousness of the armed attack, the US authorities have not provided information with the expected speed.
Remember that the attack occurs in the context of a resurgence of the imperialist policy of the United States towards the Cuban people and cannot dissociate itself from the blockade imposed on Cuba for more than 60 years, with terrible consequences for the daily life of the Cuban people. country.
Therefore, in addition to repudiating the military assault, we, the Brazilian social movements, sympathize with the resistance of Cuba that even struggles in the face of the challenges imposed by the siege.
Dawn alerts - Movements that, in the context of the pandemic, in which Cuban researchers are striving to discover vaccines against COVID-19, Washington does not reduce the tightening of its unilateral measures and the policy of aggression against the island.
As a result of the siege, Cuban researchers cannot access the equipment, instruments, such as syringes, necessary to complete the vaccine tests, indicates the group.
For this reason, he stresses, it is the role of the peoples of the world to stand in solidarity with the honorable struggle of that fierce country and demand that the United States government immediately put an end to the terrorist blockade against Cuba. (Text and photo: PL)