Saturday, May 1, 2021
May Day in Cuba: day of joy, commitment and pride
---
---
EDITORIAL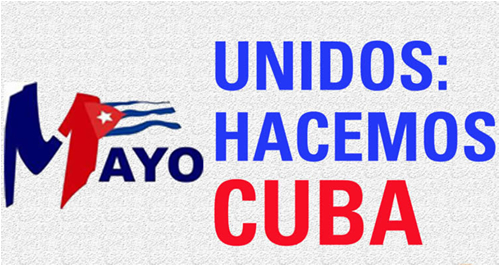 May Day is a holiday in Cuba. Even though the epidemiological situation this year once again moved the celebration to virtual space, representatives of labor collectives, neighborhoods and communities gather there to interact creatively in support of the Revolution and this immense work that we all build together.
In this way, the central idea United: We do Cuba is materialized, through which a special tribute is paid to health and science workers for their dedication and contribution to the care of life, both inside and outside the Island.
Today the flags of solidarity among the peoples are flying higher than ever; proclaim our gratitude to the social and trade union organizations around the world that are closing ranks with Cubans to demand the end of the criminal blockade of the United States that for more than 60 years has tried to economically asphyxiate the Cuban family.
In a complex international political context, there are many challenges, so Cuban workers also ratify their support for brother peoples in their just aspirations for decent employment, access to education, health for all, and peace, as rights. inalienable basics of any citizen of the world.
In Cuba, the proletarian anniversary multiplies joys, commitment and pride for this mambisa and combatant homeland that will never give up. Massive mobilizations towards agricultural tasks, voluntary blood donations, recognitions to workers and groups of relevant performances, heralded this first day of May in Camaguey.
This renewal impulse immediately activates the materialization of essential programs that include, among others, the saving of energy carriers, the substitution of imports, the increase in exportable items, the advance in food production and the vigorous fight against illegalities.
There are many reasons to celebrate in Camagüey. The recently concluded 8th. Congress of the Communist Party of Cuba clearly outlined the priorities of the five-year period, in which workers and peasants are called to continue advancing in the implementation of the economic and social strategy for the development of the country.
In this collective challenge, it is up to the people of Camagüey to strengthen internal forces and reserves; strengthen the socialist state enterprise; take better advantage of scientific-technical knowledge and innovation; promote territorial self-sufficiency; and achieve the necessary municipal autonomy.
It is about honoring the mandate enunciated 21 years ago by Fidel in the concept of Revolution, to "emancipate ourselves by ourselves, with our own efforts, at the price of any sacrifice."
The immense legacy of the historical leader of the Cuban Revolution inspires the proletarian effort that every day subscribes to the collective victories that are celebrated on this International Labor Day, and are essential in moments of necessary transformations to perfect the social model that we have chosen.
Our truths are replicated on virtual platforms, from where the usual enemy tries to subvert order on the largest island in the Caribbean. There we also fight. There the empire will find today the message loud and clear from millions of Cubans: No one surrenders here!