Monday, May 3, 2021
Empresa Agropecuaria y Citrícola Sola benefitted with irrigation machines
---
---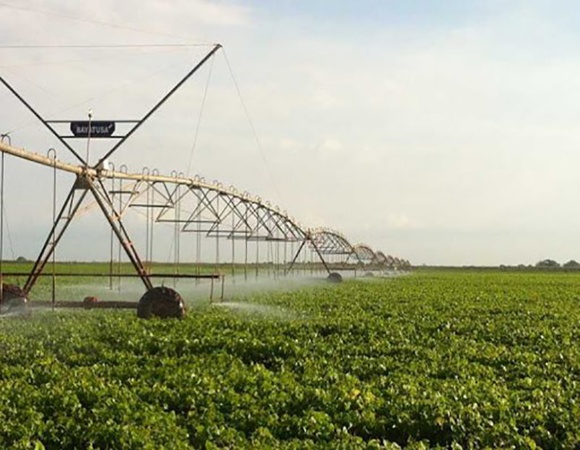 Camagüey, May 3 - The Empresa Agropecuaria y Citrícola Sola (EACS), located in the Sierra de Cubitas municipality, currently has 35 caballerias of land benefited with central pivot electric irrigation machines, technology that facilitates agricultural work in that demarcation.
A total of seven machinery arrived in that territory last October, and although all have already been installed, only four are in operation, benefiting mainly corn, sweet potato and cassava crops, Julio Velázquez Ávila, provincial delegate of the Ministry of Agriculture, explained to the ACN.
The Basic Units of Cooperative Production Carlos Marx and XXXV Aniversario, and the Business Unit of Base of Various Crops of the demarcation, are the entities favored with this technology so far, since the total investment of the project foresees the long-term installation of a total of 30 central pivot systems, assured the manager.
Each facility covers an area of ​​five hectares, and the others are expected to come into operation on May 30.
This territory was among the largest producers of citrus fruits and various crops in the country more than three decades ago, and these new facilities aspire to accelerate production rates, for which in this first stage short-cycle crops will be prioritized, said Velázquez Ávila.
In addition, he referred to the fact that with these plantations the food harvests destined to supply the provincial capital, the demand of the municipality, and the tourist pole of the northern keys will be expedited.
For his part, Javier Rodríguez Guerrero, head of the Agricultural Department of the local MINAG delegation, commented that prior to the entry into service of these machines, in those areas they worked hard to prepare the land where they were to be located, mainly because the marabou infestation was very high.
Now the panorama is different, the workers are motivated and the accompaniment and monitoring of the specialists will always be present, he said.
Once the entry into operation of all the irrigation machines is completed, it is expected that, similar to the short-cycle crops, in each area under irrigation, the quadrants of some varieties of bananas and other foods will also be tilled. (Text and photo: ACN)