Wednesday, May 5, 2021
American blockade affects immunology specialty in Camagüey
---
---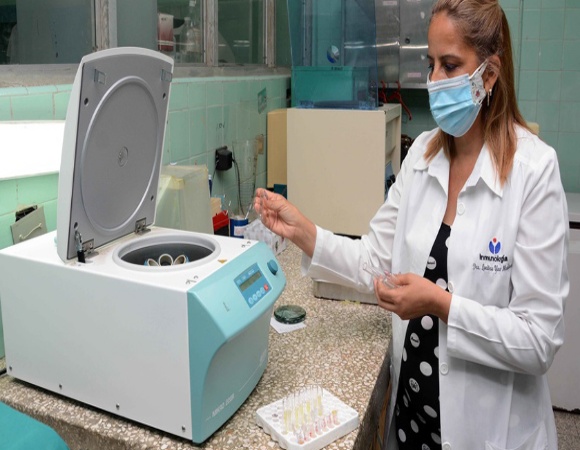 Camagüey, May 5 - The limited availability of advanced equipment for the diagnosis and treatment of diseases, stands out among the limitations caused by the economic, commercial and financial blockade of the United States against Cuba, in the Immunology department of the Manuel Ascunce University Hospital Domenech, from this city.
The consequences of the blockade influence the fact that at present there is no own molecular biology laboratory in the province of Camagüey to typify donors and recipients to intervene in a kidney transplant, explained to the ACN Roberto Álvarez Hidalgo, head of the provincial specialty group.
These highly expensive histocompatibility studies that require state-of-the-art technologies are only carried out at the Institute of Hematology and Immunology in Havana, which is why the samples generated in the region are sent to the Cuban capital.
At this time in the territory, only cross-tests are carried out to be able to develop the organ graft, stressed the specialist.
Another of the effects is present in the acquisition of the necessary means to determine different autoantibodies, which is why a smaller number of immunological tests are applied in the Camagüey institution, such as antinuclear antibodies, rheumatoid factor, supplements C3 and C4, and immunoglobulins.
The doctor also commented that professionals have obstacles, for example, in the development of studies of other more specific autoantibodies for the detection of autoimmune diseases.
Likewise, they do not have equipment such as a flow cytometer, in order to define what are the lymphocyte subpopulations that patients have and what type of immunodeficiency they present.
As an alternative, the territories send a limited amount of samples each month to process the autoantibody tests to institutions in Havana, and in the case of Camagüey it is paid to the National Center for Medical Genetics, located in the Victoria Institute of Basic and Preclinical Sciences of Girón, Álvarez Hidalgo said.
Doctors play a role in this, because diagnosis is not only based exclusively on laboratory tests, but also on clinical criteria, therefore they are performed on patients who do not meet them or there are doubts to complete the final determination, he said.
The restrictions caused by the strategy of the US administrations are evident in the impossibility of using recently created drugs such as monoclonal antibodies, or other drugs, including cytostatics and immunosuppressants, he said.
The latter sometimes cannot be acquired, which means that it is necessary to use steroids that help, but other more specific and innovative ones are needed, he said.
In four years, the young Thanet Cardoso González has lived the effects of the blockade of the northern nation during her training as a specialist in Immunology, especially when she has to move in the penultimate course to Havana, where the most modern equipment, required in the work of the professionals of the branch.
This is one more example of the impacts of the economic, commercial and financial siege of the North American government that are also palpable in other Public Health services in Cuba, where every day health personnel and specialists strive to overcome the undoubted obstacles caused by an action that for several decades harms the Cuban population. (Text and photo: ACN)