Wednesday, May 5, 2021
Venezuela promotes institutions and democratic order in favor of peace
---
---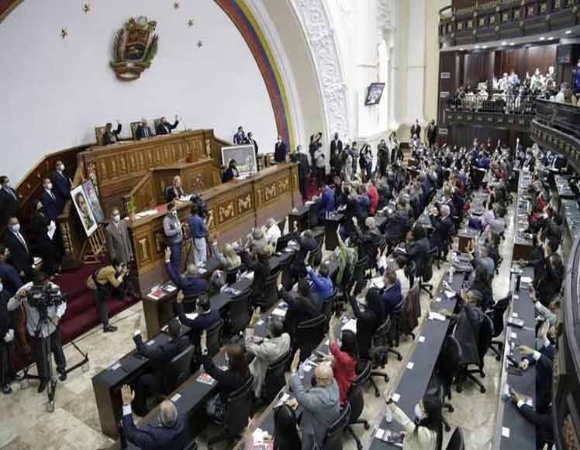 Caracas, May 5 - The appointment of the National Electoral Council (CNE) for the period 2021-2028 responds today to the broad process of dialogue promoted in Venezuela in favor of peace and reconciliation, political actors agreed.
In a special session held the day before, the National Assembly (Parliament) of Venezuela swore in the five main CNE rectors, Pedro Calzadilla, Alexis Corredor, Tania D 'Amelio, Enrique Márquez and Roberto Picón, as well as the 10 alternates.
The head of the Legislative Assembly Jorge Rodríguez highlighted the reaffirmation of the institutional framework and the democratic order through the renewal of the highest electoral body, which will act autonomously, independently and nobler to safeguard the vote of each elector, he asserted.
I greet the deputies of the National Assembly, who, complying with what is established in our Constitution, have appointed the new rectors (…) of the Electoral Power. A work that the Venezuelan people thanks them, said President Nicolás Maduro in this regard on the social network Twitter.
In turn, Foreign Minister Jorge Arreaza described this event as a victory for peace and for the consolidation of Venezuelan democratic institutions.
The Foreign Minister expressed his appreciation to the outgoing CNE team and celebrated the definitive defeat for those who wanted to lead us down the path of violence and dependency, he said.
In a joint statement, the opposition political organizations represented in the National Assembly underlined their support for the appointment of the electoral body, the result of the political actors who decided to travel the electoral route, with detachment and without extremist positions.
The opposition group asserted that the new National Electoral Council has a historical responsibility and the duty to transcend differences and political confrontation, transmit confidence to the electorate and give its contribution to peace and reconciliation in the country.
After the renewal of the CNE and the recent repeal of the Law of constitutional periods of the public powers, the doors were opened to the celebration of mega-elections in the South American nation to elect 23 governors and 335 mayors in the course of 2021.
The previous directive of the highest electoral body of Venezuela was appointed in mid-2020 by the Supreme Court of Justice, before the contempt and legislative nullity of the National Assembly, dominated by radical sectors of the opposition in the 2016-2021 period.
According to the CNE regulations, the new board must hold a meeting to designate the Presidency and Vice-presidency, as well as the distribution of the National Electoral Board, the Political Participation and Financing Commission, and the Civil and Electoral Registry Commission. (Text and photo: PL)