Thursday, May 6, 2021
New activism in Sweden against the US blockade of Cuba
---
---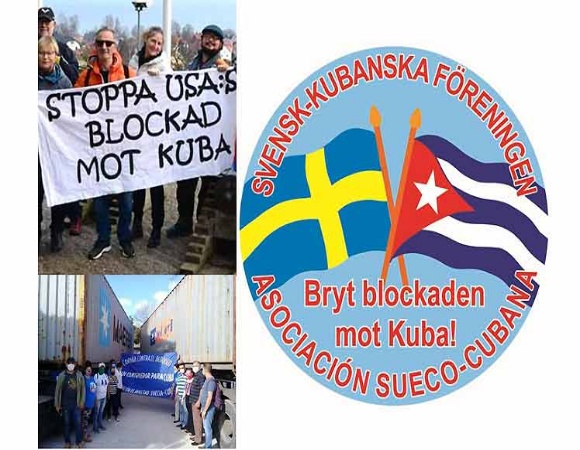 Stockholm, May 6 - The Swedish-Cuban Solidarity Association announced today that it is preparing new actions to support the island in the fight against the US economic, commercial and financial blockade, after sending two containers with donations.
In statements to Prensa Latina, the president of the organization, Zoltan Tiroler, specified that with greater urgency they will work on collecting funds for the purchase of syringes and needles for vaccination against COVID-19 in the Caribbean country.
We see in various parts of the world this initiative to support mass immunization in Cuba and we also want to provide a contribution from Sweden, so we will begin the campaign next week with the dissemination of information on the impact of the blockade, he stressed.
According to the activist, the recent shipment of two containers left a positive balance in the solidarity work, since it managed to involve more people, motivated by a concrete and useful contribution.
We have received photos and comments about the arrival in Cuba of the aid, consisting of articles for medical use, toys for day care centers, bicycles and basic necessities, so that we already anticipate new donations, although first we will focus on syringes, he explained.
Tiroler commented that the association will define the modality to support vaccination against COVID-19, considering various experiences, including the delivery of money to MediCuba Switzerland, an organization in contact with island authorities for the purchase of supplies in the health sector, one of those severely hit by the more than 60 years of blockade.
Regarding the new call launched from the Europa Channel for a world day against the US blockade, scheduled from June 6 to 13, guaranteed to Prensa Latina the participation of the Scandinavian country.
Of course we will be, the last weekend of March we carried out activities in 12 cities and now it is about discussing what we will do in June, with the expectation of exceeding what was done then, he said before the mobilization called for the vote in the General Assembly of the UN, on June 23, of a new resolution against the siege of Washington.
According to Tiroler, another line of work of the Swedish-Cuban Solidarity Association is its internal strengthening, with the mission of combating the blockade, misinformation and manipulation regarding Cuba.
We have been growing for five or six years as an organization, with more activities, consolidating the objective of reaching the Swedish public, he added. (Text and photo: PL)