Thursday, May 6, 2021
Camagüey implememnts measures to face the current dry season
---
---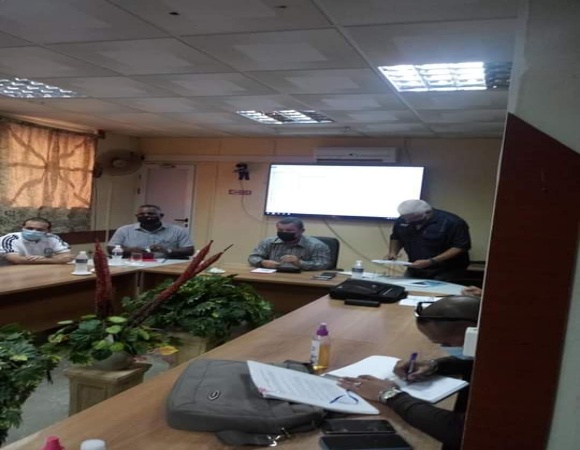 Camagüey May 6 - The strategies that must be implemented to face the current dry period, the priorities to complete hydraulic works in the territory, in addition to the measures to make a more effective use of water, were issues evaluated this Wednesday by Antonio Rodríguez Rodríguez, President of the National Institute of Hydraulic Resources on a working visit to Camagüey.
In exchange with executives of the sector in the province, Rodríguez, announced the Plan to Cope with Drought, emphasized that the central-eastern region is one of the most affected by the scarce rainfall and insisted on optimizing the resource, fundamentally, the one directed to the agricultural production.
He added that among other measures, the monitoring of supply sources is included, the transfer of water through the pipe system and called for prioritizing the places with the greatest vulnerabilities.
Upon execution of hydraulic works, it transpired that municipalities will benefit Santa Cruz of the South, with the development of projects to minimize the damages caused by salt and Nuevitas intrusion, where some 10 kilometers of networks connected to elevate quality of life of the population.
Rodríguez, also spoke with Camagüey hydraulic companies about the situation of investments financed by the credit of Saudi Arabia, within which he was interested in the actions carried out in the Water Treatment Plant of the municipality of Camagüey, considered the one that processes the largest amount of water in the country.
On the other hand, he highlighted the need to efficiently use this vital resource to promote food production, review the organoponics and orchards connected to the aqueduct network, and in the same way, assess the possibilities of drilling wells where possible.
During the visit to the province of Camaguey and as part of the tour he makes through the central-eastern region of Cuba, Antonio Rodríguez Rodríguez, president of the Institute of Hydraulic Resources, said that even in the midst of difficult circumstances caused by the pandemic, the reduction of the imports and fuel shortages, work continues to improve water supply to the population and services. (Text and photos: Gleibis Gómez Durva / Radio Cadena Agramonte)