Thursday, May 6, 2021
International organizations reject repression against national strike in Colombia
---
---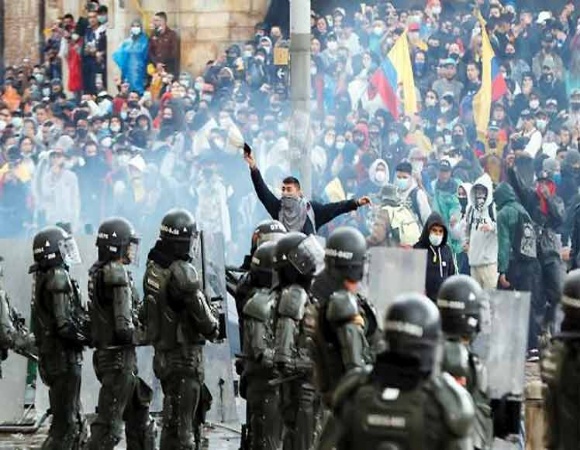 Bogotá, May 6 - Entities from France, Chile, Costa Rica, Uruguay, Cuba, Spain, Australia, Germany and the United Kingdom rejected the repression against the national strike in Colombia, which reaches its ninth day today.
Institutions from these and other latitudes joined in the criticism of the UN and the EU of the extreme measures in the face of protests against a tax reform that was finally withdrawn.
Among those organizations is the Bolivarian Alliance for the Peoples of Our America-Peoples' Trade Treaty, which condemned the violent events that occurred since April 28.
The integrationist bloc expressed its concern for the victims in Colombia of arrests, disappearances, sexual abuse and the death of 31 people.
The Confederation of Indigenous Nationalities of the Ecuadorian Amazon expressed solidarity with this fight against unpopular reforms and the violation of human rights.
The Office for America and the Caribbean of the International Democratic Federation of Women also repudiated the repressive acts.
The vice president of the National Assembly of People's Power of Cuba, Ana María Mari, questioned the violence against the Colombian people, mobilized for their rights.
US senators like Jim McGovern decried the brutal response to the peaceful demonstrations; while the democrat Gregory Meeks asked the Colombian president to moderate the response.
Jaime Bellolio, spokesperson for the Chilean government, declared that the violation of human rights should be prosecuted without nuances, when referring to the aforementioned events.
Hundreds of Colombians living in Spain, Australia, Germany and the United Kingdom mobilized to support popular demands and demand that the violence cease.
The military response assumes a particular violence, through repressive acts that increased since the beginning of the National Strike on April 28 against the initiative, which would tax basic products and services.
The military, encouraged from the shadows by former President Álvaro Uribe, fired in cold blood against the protests, oblivious to the international reaction to their actions.
The protests grew in cities such as Bogotá, Medellín and Cali, where they occupied main avenues and paralyzed traffic, while the boycott of public vehicle drivers interrupted transportation.
No more taxes, Health and education and They are starving us, read some of the posters displayed by the protesters.
The deaths in these days due to police brutality occurred in Bogotá, Antioquia, Cundinamarca, Huila, Risaralda, Soacha and Tolima, while in Valle del Cauca there were 17. (Text and photo: PL)