Friday, May 7, 2021
Health supplies campaign for Cuba advances in Honduras
---
---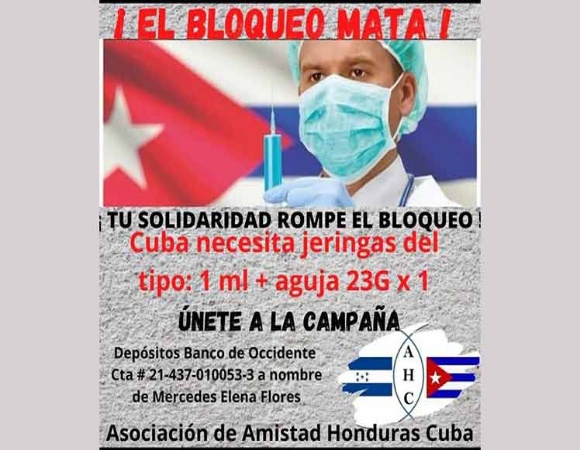 Tegucigalpa, May 7 - The continental campaign of solidarity movements with Cuba to send a million syringes to the island for vaccination against COVID-19 is progressing in Honduras, an activist of the crusade confirmed today.
Elena Flores, president of the Honduras-Cuba Association (AHC), told Prensa Latina via WhatsApp that the campaign began with the dissemination at the level of unions, teacher colleges, agricultural companies, activists of solidarity with Cuba and the 17 affiliates of the AHC.
Given the complexity of sending the syringes to the island due to the lack of air connection from the Central American country, they opted for the option of contributing money and sending it to Panama to make the purchase and transfer from the canal country through the Cuban Aviation line, he pointed.
They joined the initiative with Honduran doctors graduated from the Latin American School of Medicine and other university careers in Cuba, plus the community of Cubans residing in Honduras.
A launch through social networks plus direct work with social organizations contributed to the achievement of contributions, in correspondence with the financial possibilities of the donors.
People have responded quite well, Flores emphasized.
He recalled that in the conditions of the pandemic in Honduras, serious problems with employment persist, behind in the payment of salaries, the solidarity activists comply with the commitment.
We are advancing in the campaign and we believe that before the end of this month we will have a good amount of money so that Cuba has these syringes, concluded the Honduran psychologist. (Text and photo: PL)