Monday, May 10, 2021
PhD Ricardo del Risco Alfonso has the satisfaction of being an Academy Award winner
---
---
By Mónika de los Ángeles Escobedo Artola / Radio Cadena Agramonte.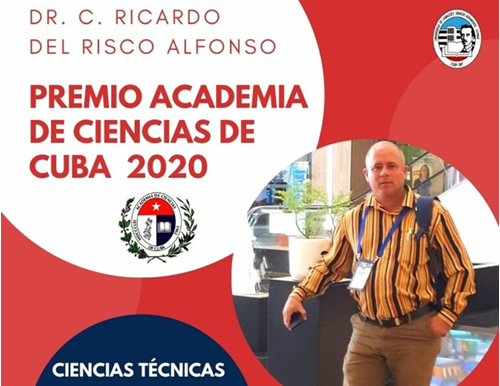 The Cuban Academy of Sciences recently awarded a total of nine awards to professors and researchers from the University of Camagüey Ignacio Agramonte y Loynaz, of which five went to main authors and among which is PhD Ricardo del Risco Alfonso .
Recognized in the area of ​​Technical Sciences for the research entitled Determination of technological indicators and cutting parameters in high-speed machining in steels by experimental methods, numerical simulation and artificial intelligence, del Risco Alfonso offered details about the award-winning study:
"This award is the result of a scientific work that will allow optimizing the cutting parameters with the aim of, for example, reducing processing times, energy consumption, cutting force and obtaining better surface roughness in the pieces, which which translates into quality indicators that contribute to extend the useful life of the tool. This will allow the reduction of expenses for tooling concept; one of the fundamental elements that affect the cost of production of a piece".
Although Professor Ricardo was distinguished as the main author, he highlights and recognizes the work of all those who contributed to the research.
"We are three main authors: the Doctors of Science Roberto Pérez, who is my tutor, Luis Hernández and I, but there is another group of authors and 58 collaborators also participated. There are contributions not only from the University of Camagüey because, in addition, there are those of Holguín and Granma and some foreign institutions such as the Autonomous University of Nuevo León and the Tecnológico de Monterrey".
The annual award given by the Cuban Academy of Sciences becomes of great significance both for the authors of the work and for the University of Camaguey.
"Personally, the award means a lot and constitutes a recognition of the results of this research that is related to my PhD topic.
It is a stimulus for collaboration between the different universities and one more endorsement for my professional career. In addition, it is a merit for the University and its group of workers, which considerably influences its prestige, not only at the national level but also at the international level", concluded PhD Ricardo del Risco Alfonso. (Photo: Taken from the web portal of the University of Camagüey)