Tuesday, May 11, 2021
Day care program will resume in Camagüey
---
---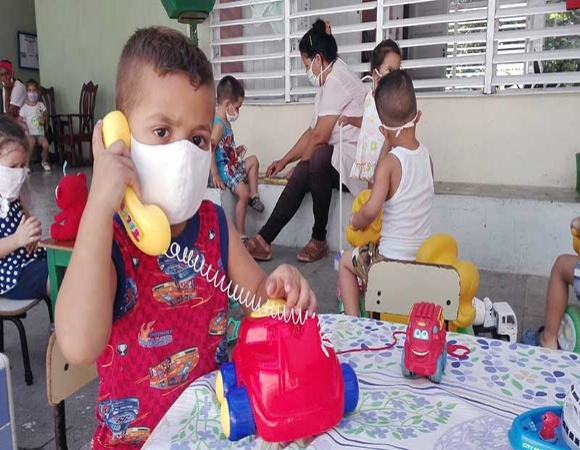 Camagüey, May 11- The Education directorates in the province of Camagüey work together with municipal authorities and company executives, in order to achieve greater sensitivity regarding the Daycare program, which last March the Council of Ministers approved to resume in the country.
In keeping with the Ordering Task, undertaken since January of this year, the Cuban nation seeks to take advantage of this modality of care that emerged in 1993 for the care of children of mothers, fathers or guardians linked to production and service entities.
Among the studies recently carried out in this central-eastern region was the determination of the unsatisfied demands of labor entities, which total 2,190 throughout the territory, of which 1,083 belong to the municipality of Camagüey, as Miriam Arcaya Matos, head of the early childhood department, explained to the ACN.
He also said that discussions are being held with the government authorities of each demarcation and company executives, in order to implement the program, among whose requirements is that the center interested in the services will determine the location and education will provide the specialized personnel and the material base study.
For next June, Arcaya Matos explained, it is planned to open the first Children's House in the town of Galbis, in the municipality of Guáimaro, in a premises of the Livestock Company in that area.
Created in agricultural cooperatives and places where there were no nearby nursery schools, the aforementioned facilities reached the highest number in the 2000s, when there were 38, according to the newspaper Juventud Rebelde, María de los Ángeles Gallo Sánchez, national director of Early Childhood of the Ministry of Education.
He added that currently only 16 remain, which have an enrollment of 453 children in the provinces of Pinar del Río, Havana, Mayabeque, Villa Clara, Cienfuegos, Las Tunas, Holguín and Granma.
Today the province of Camagüey has 66 nursery schools, institutions that can only receive a number of around 8,300 minors.
That is why in times of economic transformation, when a greater incorporation of people into employment is required, the Children's Houses as an extension of work centers represent a valuable alternative for the care and education of the children of families associated with production and services. (ACN) (Photo: Tiempo21.cu)