Tuesday, May 11, 2021
Colombian city of Cali becomes repressive epicenter against the national strike
---
---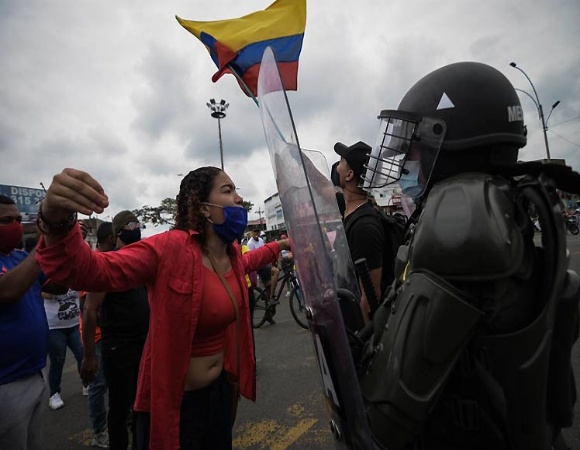 Bogotá, May 11 - The Colombian city of Cali woke up today with consequences of destruction and death due to the clashes the day before between police officers and protesters involved in the national strike against the government.
The escalation in the face of the protests ratified that city as the epicenter of the official response to the popular crusade for executive measures such as a tax bill later withdrawn, local media published.
The late-night clashes began in the west of the western city when the Mobile Anti-riot Squad began to dismantle the barricades and blockades of the protesters, added CaracolNoticias.
Disgruntled groups then reacted to this special Citizen Security Police unit, while the sound of detonations from other parts of the city was heard.
Although the possible casualties between the parties were unknown, the streets of Cali continued to be besieged by soldiers and police last night, following an order from President Iván Duque to end the demonstrations.
This situation coincided with the announcement from Bogotá that the mobilizations will continue this Wednesday, after the failure of a meeting with Duque of the National Unemployment Committee.
It was an exploratory meeting in which we did not reach agreements with the government, the Committee said in a statement after the dialogue at the executive headquarters in the Casa de Nariño.
Duque instructed the Ministers of the Interior and Defense, Daniel Palacios and Diego Molano, respectively, to militarize Cali and guarantee there the greatest deployment of the capabilities of the public force.
Valle del Cauca, of whose department Cali is the capital, closed its borders and restricted the mobility of means of transport and people, in the face of the protests that began on April 28.
Jorge IvánOspina, mayor of that town, declared that militarizing the country to face the strike against the government is the wrong route.
A situation of military order would create more outbreaks throughout the country and lead to the loss of more governance, argued the mayor of the city.
Ospina called for the social causes of the conflict, despite the public order situation in the city he runs, and expressed his fear that reactions such as road blockades would increase.
For his part, Senator for Alianza Verde Antonio Sanguino warned that President Duque chose the wrong path to resolve the crisis in Cali.
Such a path, he assured, is to shut himself up even more in the Palace and go to the public force, which acts together with armed civilians in violation of human rights.
According to the NGO Temblores, which updates and supports the cases of violence in these demonstrations, 47 Colombians died during these 13 days of mobilizations. (Text and photo: PL)